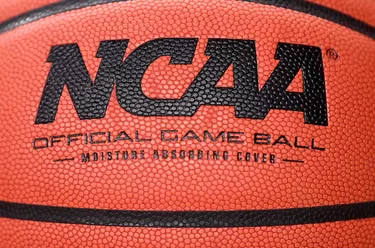 Although the National Collegiate Athletic Association (NCAA) sanctions baseball, softball, golf, soccer and other sports, their basketball teams are arguably the best known and most loved. If you also love the game, are not good enough to make a team and being a fan is just not enough, you might want to consider becoming an NCAA referee. Not only is it exciting, but it also keeps you active and basketball is a sport that is played year-round in small and large venues around the world.
NCAA Basketball Official Description
Writers from All About Basketball describe the responsibilities of NCAA basketball officials, which begin before the games even start. They have to check the scorebook rosters, inspect all of the equipment, ensure that the players are properly outfitted and observe the pre-game warm-ups. Referees then start the game by tossing the ball up in the air at center court for the opening tip.
During the game, officials keep an eye on things to ensure that the game is played in accordance with the rules and regulations. They call out and assess violations and fouls, blowing a whistle to stop the play. Hand signs are used to show what type of violation occurred, and if applicable, penalties are issued. It may be necessary to view replays and review shots to make these kinds of determinations. Referees are also responsible for player safety, and sometimes have to remove player jewelry or anything that is sharp or pointed.
NCAA Basketball Official Education Requirements
The National Association of Sports Officials website posts that basketball officials have to be strong in the physical and mental sense. They move constantly, without opportunities to rest. On average, they cover from one to four miles in a game. Basketball officials work with other referees, and although these working relationships can be fine, they may be subject to harsh criticism from players, coaches and fans.
It is common for basketball referees to start out at the youth level, through local recreation departments and schools. You need certification to work sanctioned school games. You can contact the National Federation of State High School Associations for information. College basketball is much more competitive, so you can start by getting a conference schedule and networking with officials who are there. Many attend officiating camps to further their careers. Referees can start in the National Association of Intercollegiate Athletics (NAIA), and work their way up to NCAA Division III, Division II and so forth.
NCAA Basketball Official Industry
The team at Sportscasting posts that basketball officials get paid by the game, and the rates are higher for bigger conferences. These referees can earn up to ​$2,000 a game​, but for smaller conferences, they might earn around ​$50,000​ a year if they get to referee around ​50​ games. Keep in mind that they do not receive paid sick time or vacations because they are paid by the game.
When officiating up to men's Final Four teams games, the pay structure is tiered. This means that a referee might be paid ​$1,000 a game​ in the first rounds, ​$1,400 for regional finals​ and ​$2,000 for the Final Four​ games. Those who are able to impress the NBA may be able to switch to professional basketball, and the highest-paid referees can earn around ​$550,000​ a year.