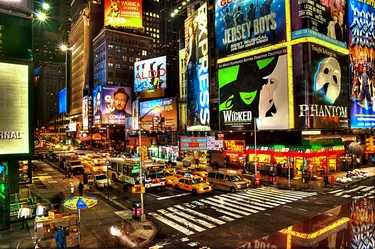 A Broadway musical director is the heart and soul of a production and is as integral to it as the actors, musicians, writers and producers. According to the writers at Playbill, music directors are to composer-lyricists what directors are to playwrights, and they can make or break a Broadway actor's career. A top-earning theater director salary can be over ​$100,000​ a year, so the financial rewards can be pretty impressive if you are willing to work your way up.
Broadway Musical Director Description
The experts at Careers.Broadway post that Broadway musical directors are in charge of the music-related aspects of a theatre production, working in conjunction with directors, composers, choreographers and conductors.
They also work closely with composer-lyricists to develop musical scores for theatre productions. Although all of these partnerships work differently, in many cases, the composer-lyricist records a baseline demo as a starting point. The demo might have someone playing the piano and singing, possibly accompanied by a rhythm section. This provides the structure of the sound.
From there, a music director transcribes the music, composes harmonies and can contribute to orchestrations. They help with casting actors, teach the orchestra, choreographer and cast the music and may even act as a conductor during performances. They decide how the music is delivered, including which characters sing songs and how the songs are structured.
It is common for these directors to change lyrics and verses; they also tweak how the dialogue is delivered in conjunction with the music. Music directors also make frequent changes to the scores when scenes have to be changed. Essentially, the key is to maintain the composer-lyricist's and playwright's visions while enhancing the production with the best music.
Broadway Musical Director Education Requirements
Broadway musical directors have to have a thorough knowledge of music and music theory and good attention to detail. They should have strong, clear communication skills and be skilled at leading groups and multi-tasking. There are colleges and universities that offer degrees and concentrations in music performance and music theory.
Many working Broadway music directors started out as musicians and then transitioned into becoming music directors. They often start out in school productions and progress to volunteering and getting paid to direct amateur musical productions. It is also a good idea to join a professional organization like the Associated Musicians of Greater New York.
Networking with theatre professionals is also key. Getting to know the players in the industry, from Broadway actors to producers, will be immensely relevant to the jobs you are able to get, so being outgoing and professional, all while showcasing your drive and talent, will go a long way.
The U.S. Bureau of Labor Statistics shows a median pay of ​$52,250​ per year for music directors and composers. The majority work for schools and religious organizations, but many are also self-employed. This source projects average growth for this industry for 2020 through 2030, with a ​6 percent​ expected increase.
A Broadway director or Broadway producer salary is higher, as the Bureau posts that producers and directors in general average around ​$76,400​ a year. This category also seems to have a higher-than-average growth from 2020 to 2030, at ​24 percent​.
Broadway directors and anyone else working on a highly successful production will obviously earn more money. As a guide, Glassdoor shows that Broadway producers who work in musical theatre average ​$83,914​ a year in base pay. Many theatre professionals invest in their shows, and if they are lucky enough to be part of a major success like "Hamilton," they can do extremely well.