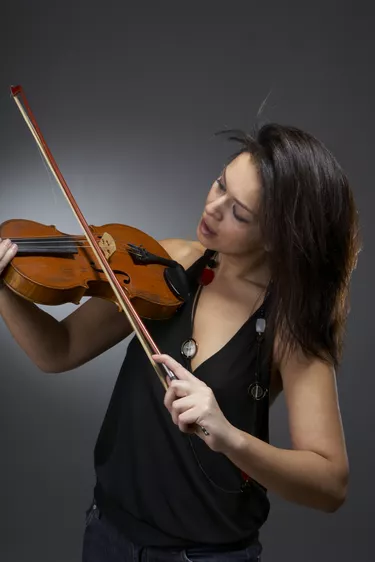 Obtaining performing jobs as a concert violinist is very competitive. Most concert violinists who are highly paid begin their careers by competing in large competitions and winning awards, making them more attractive to high-paying symphonies in large metropolitan areas. Successful concert violinists usually have an agent who helps them negotiate and seek out lucrative performing contracts.
Soloist Pay
A concert violinist is basically a soloist who is booked by a symphony or a symphony hall to play. There is no set salary because the concert violinist is, in effect, a freelance artist. A soloist's pay varies depending on her popularity. According to gigplayer.com, concert violinists make between $250 to $2,500 for a single community event. Adapstration.com reports in their 2011 compensation report that concert violinists who contract with a large symphony as a concert master performing multiple solo performances can make over $100,000 per year.
Enlisting an Agent
Soloists and freelance musicians often enlist the help of booking agents to help them secure performance dates. Booking agents generally charge a commission on the sale of a performance, which generally translates to a percentage of the wages offered the performer. The booking agent and the concert violinist sign a contract that protects the earnings of the violinist and guarantees the agent payment from the purchaser, whether it is a symphony or a country club engagement.
Violinists in Large Orchestras
Concert violinists, also called concert masters, sometimes choose to perform longer engagements with symphony orchestras as their premier performer for a season. Depending on the size of the symphony, these salaries vary from moderate pay of approximately $40,000 per year with the Honolulu Symphony (according to their website at the time of this publication) to over $100,000 per year with the New York Philharmonic, according to Musicians.com.
Considerations
Concert violinists only earn high salaries after playing and practicing for many years. Most have a formal music education and many have won top awards at music competitions. Professional musicians often supplement their incomes by teaching lessons. According to Musicians.com, accomplished musicians can charge over $100 per hour per music lesson. As a concert violinist, you may also be able to supplement your income by being part of an ensemble. Ensembles are often asked to perform by symphony organizations, as well as at private events.