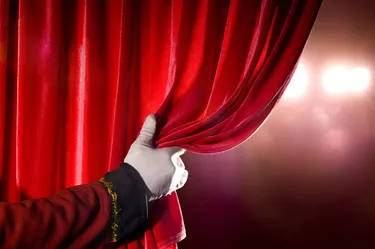 So much goes into telling a story on the stage than just the script and score. Broadway stage lighting also contributes to the audience's experience, which means that the light designer plays a critical role. What does a lighting designer do? How much do lighting designers make? These questions along with how to become a Broadway lighting director can help you decide if this is the career for you.
What Does a Lighting Designer Do?
What's a lighting designer? According to Berklee, the role of a lighting designer is built directly into the name. A lighting designer literally designs the lighting for a show. This lighting is a vital aspect of the show since lighting is one of the most crucial modes of storytelling for live stage performances. The lighting helps convey the mood and tone to the audience. If the scene is supposed to be suspenseful, dark lighting paired with tense music and solid acting can take the audience out of the present and immerse them in the story.
Since lighting can be critical to the audience's understanding, maintaining the lighting equipment is also an important job that lighting designers often oversee. They may also make changes according to ongoing feedback from the director, actors and even audience members.
A Broadway director might hire a lighting designer to work exclusively on a single show through its run. In other cases, they may choreograph the lighting and then hand management off to a colleague so they can move to other creative endeavors.
How Much Do Lighting Designers Make on Broadway?
A lighting designer salary can vary widely depending on the scope of the production, its funding and other factors. Broadway shows tend to be well funded, which means that Broadway lighting budgets are exceptionally high compared to other lighting roles. Most of the time, lighting designers are contract workers, and they receive a flat fee to design the lighting for the show. After that, they may receive a monthly or weekly royalty for the length of the show. They would also receive hourly pay if they actively worked in maintaining the lighting equipment or directing the lights during the show.
The initial contract fee for the light design for a Broadway show is typically around ​$25,000​. Royalties then range from ​$900 to $1,500​ per week, which typically entails a minimal amount of work mainly focused on troubleshooting any issues that come up during the performances. The data aggregators at the U.S. Bureau of Labor Statistics report that lighting technicians earned a median yearly income of about ​$58,000​ in 2021. It is reasonable to assume that Broadway lighting directors earn considerably more.
How to Become a Broadway Lighting Designer
As you might imagine, working on Broadway is a sure sign that you're very good at your job. You'll have to work hard and have innate talent to become a Broadway lighting director. Most people start as a member of the stage crew and then work their way up.
If you're passionate about theatrical light design, the best path to getting into the career is to get involved as early as possible. To that end, you may want to join the drama club at your high school and work on plays during the summer as well. Remember that many organizations may benefit from a lighting designer, from dance studios to local musical acts. Build your resume as best you can.
Stay involved in that work through college and consider majoring in theater or a related field. You may also benefit from studying lighting in other fields, such as film, visual art and photography.