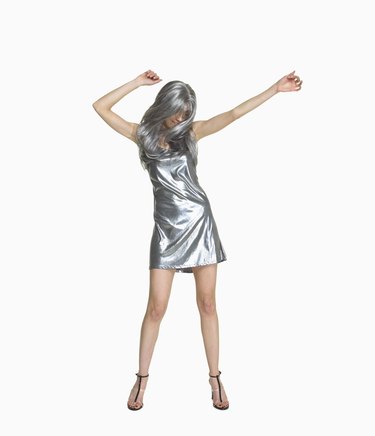 Go-go dancing came about in the early 1960s, when women at clubs in New York started dancing on tables. It became a featured part of nightclub entertainment with dancers elevated above the main dance floor, on podiums or in cages. Go-go dancing originated in clubs, but today dancers may also work in theaters, in music videos, at dance festivals and conventions, or on television. Many seek employment in several areas. Because very few dancers secure salaried, full-time positions, the official published salary information is for average hourly rates.
Average Income
For the purposes of its national employment survey conducted in May 2010, the U.S. Bureau of Labor Statistics classified go-go dancers alongside dancers specializing in other forms. It reported that the mean hourly salary across the profession was $16.55. Dancers within the top 10 percent of earners could receive over $30.43, while their counterparts in the bottom 10 percent earn less than $7.79 per hour. Go-go dancers may augment their wages with customer tips.
Income by Industry
Of the industry sectors detailed in the BLS survey, go-go dancers are likely to be included primarily in two: drinking places—in this case, nightclubs and bars—or as independent artists, writers or performers. The bureau gave the mean hourly pay rates within these sectors as $10.56 and $14.91, respectively. By way of contrast, dancers employed within performing arts companies earned a mean hourly salary of $19.89.
Income by Location
Location can also influence a go-go dancer's salary. The bureau listed Oregon as the state in which dancers of all types, across all industry sectors, were likely to earn the highest wage, a mean hourly rate of $26.65. In New York State, which happens to be the birthplace of go-go dancing, the rate was given as $24.50, while Nevada completed the top three locations, with a mean of $19.81. In contrast, Missouri was listed at just $12.95.
Outlook
The Bureau of Labor Statistics predicts that employment opportunities for dancers of all kinds will grow by around 6 percent over the decade from 2008 to 2018. This is compared to a rate of between 7 and 13 percent estimated for the nation as a whole. The popularity of the career will also mean that candidates will face keen competition for vacancies and must take a flexible approach to finding employment, with teaching or instructing in dance as a fitness program likely to offer some opportunities. As such, salary levels for the occupation are unlikely to rise significantly in the immediate future.