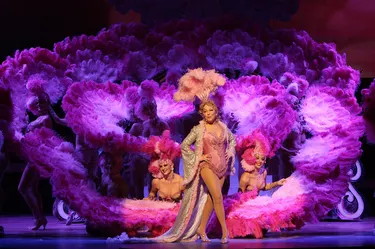 Though the word "showgirl" may conjure up images of excess and sensuality, working as a Vegas showgirl is a legitimate profession for women from many walks of life. As with many jobs in the entertainment industry, there is no standard salary for Vegas showgirls; from the bottom rung to the top, earnings vary based on experience, employer and current demand for shows.
Salary Examples
Showgirls performing in "Jubilee!" at Bally's Resort and Casino -- a fairly popular show -- earned about $1,000 to $1,400 per week. That is still unusually high. As the number of such shows diminishes, so does the showgirl's salary. According to Simply Hired, as of 2014, the average annual salary for a Las Vegas showgirl was $39,000.
Benefits
Each casino offers different benefit packages. Some offer common benefits such as medical, dental and vision coverage, or life insurance, plus bonuses such as free meals or daycare services on the job. At the high end, casinos offer concierge service for employees, free exercise packages, prepaid legal assistance and even free dry cleaning. Showgirls can also enter competitions to earn extra income.
Expenses
The life of a professional Vegas showgirl comes with some expenses. Out of pocket, showgirls may have to pay for ongoing education in the form of dance classes. Showgirls are expected to stay in shape, so a gym membership is often a necessity. These women must also provide transportation and meals -- unless the casino provides food -- to get through as many as 12 shows per week.
Job Requirements
Qualifications for a Vegas showgirl vary by casino and show. Showgirls must be 18 or older. Commonly, employers impose height requirements, usually around 5 feet, 8 inches. Professional showgirls must be in shape and have the ability to dance, move well and sometimes sing. Jazz and ballet techniques, as well as a background in acting, help bolster the skill set of Vegas showgirls.