Mascots are used to advertise a particular company publicly. Most often and notably, they are used in sports to advertise a team and to excite fans of that team. Their characters can be animals or figures representing the theme of a particular city, such as Sourdough Sam, a gold miner, for the San Francisco 49ers. The job of a mascot is highly entertaining and competition for jobs can be high, particularly in professional sports.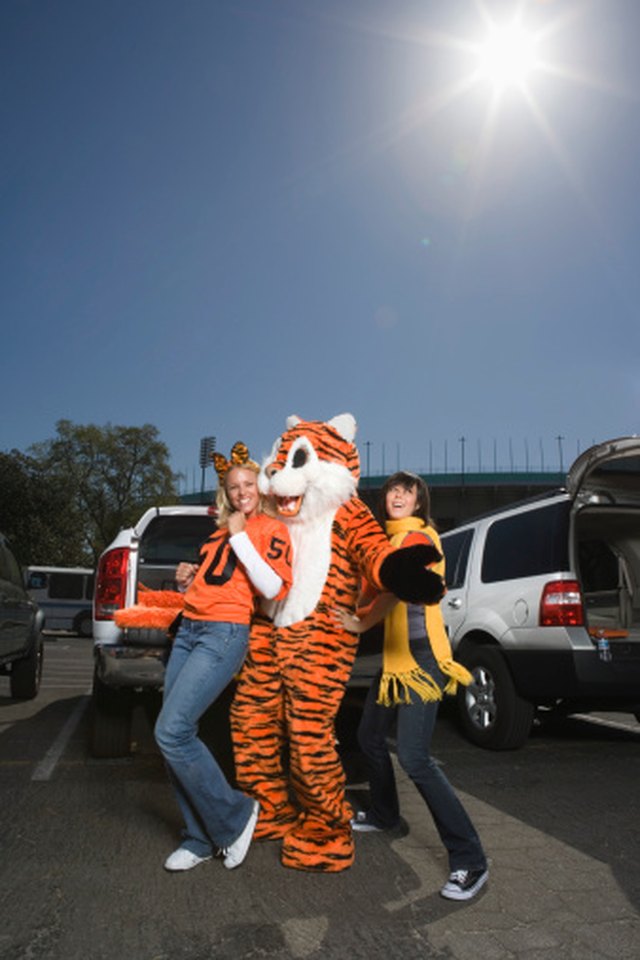 National Basketball Association Mascots
Dave Raymond, a former Philadelphia Phillies mascot and owner of Raymond Entertainment Group, which provides mascots for NBA teams, said in a November 2006 article for the St. Petersburg Times that "playing an NBA mascot is the most coveted job in the sports mascot industry because of the creative, high-flying showmanship and the corresponding higher salaries that come with the NBA gigs." Raymond adds that starting salaries for NBA mascots are in the $40,000 to $45,000 range and that 80 percent of the NBA teams hire full-time mascots.
Major League Baseball Mascots
According to the same article, Kelly Frank, a mascot for the Tampa Bay Devil Rays, is one of 11 full-time mascots in Major League Baseball, where the starting salary for a full-time mascot was $28,000, as of 2006. This compares to a yearly salary of $25,000, as of 2004. Several teams hire part-time mascots, who typically earn $100 to $200 per game.
National Football League Mascots
Twenty-seven of the league's 32 teams have mascots. Yearly salaries range from $23,000 with benefits to as much as $65,000. Additionally, a mascot may earn an additional $10,000 if his team reaches the Super Bowl. However, some mascots are paid on a per-game basis and many hold second jobs. Those in full-time positions might work in the marketing offices of NFL teams.
College Mascots
Because college mascots are typically students, they are not paid a salary. However, it is customary for some college sports mascots to receive a considerable stipend, which varies according to the college or university. In an October 2007 article for Imprint Magazine, Erin Drew of Mascot.net states that "The college mascot scene is really evolving into a profession." She cites the number of college football mascots that are able to set up meetings with NFL teams because of their popularity with fans and sponsors of their team.