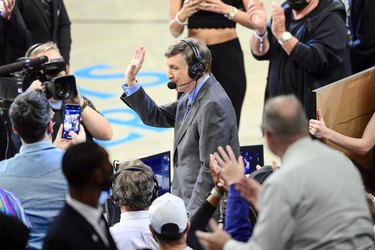 When you hear about sports announcers or commentators, it's always the big names who call play-by-plays, provide color commentary or analyze games, teams and trends for network television. As with many jobs in sports, those in local and regional sports announcing and commentating make far less than the 2021 top NBA sports announcer salary of ​$10M​. Overall, NBA announcers had average salaries of ​$80,000 to $100,000​.
Tip
NBA announcers had average salaries of ​$80,000 to $100,000​ in 2021; however, the highest-paid NBA commentator made ​$10M​.
NBA Highest Paid Sports Broadcasters
Some would consider NBA commentator salaries low compared with what the top players make. Top NBA commentators, though, are increasingly paid salaries that rival players' pay. For example, in 2021, Stephen A. Smith was paid a record ​$10M​ by ESPN. Top NBA commentator salaries in 2021, according to Sporting Free, and the networks that paid them include:
Stephen A. Smith - ​$10M​ ESPN
Bob Costas - ​$7M​ CBS, NBC Sports, WGN-TV
Mike Greenburg - ​$6.5M​ ESPN, ABC
Tony Kornheiser- ​$6M​ ESPN
Michael Wilbon - ​$6M​ ESPN
Al Michaels - ​$6M​ NBC Sports, ABC
Skip Bayless - ​$6M​ ESPN
Charles Barkley - ​$5M​ TNT
Dan Patrick - ​$5M​ ESPN, NBC Sports
Grant Hill - ​$2M​ NBA TV
Marv Albert - ​$2M​ TNT
Jay Bilas - ​$2M​ ESPN, CBS
Dan Shulman - ​$1M​ ESPN
Kevin Harlan - ​$1M​ TNT
Salaries of top announcers are negotiated between the networks, commentators and their agents, and are based on how much experience the commentator has in broadcast announcing and their fan following. Stephen A. Smith, for example, is controversial because of his blunt comments. But, he has brought many dedicated viewers to the network, and that's what counts most when salaries are renegotiated. Ultimately, salaries come down to supply and demand. There aren't many commentators who can do the job as well as those at the top, so if a network wants them badly enough, or wants to hang onto them, they offer them higher salaries.
NBA Announcer Description
The announcers you see on TV have different job titles and functions. Play-by-play announcers call the action of the game as it happens. Color commentators add interesting facts and the history of the game and players. Analysts have the data and knowledge to compare players, teams and trends of the sport. Commenting on games is the obvious part of the job for sports announcers, and probably the most enjoyable part, but that is typically a fraction of the job's tasks. They must keep on top of what is happening throughout the league and research to find interesting facts on players, teams and the history of the sport.
Of course, highly paid announcers don't start their careers in these coveted positions. Some, like Charles Barkley, are former players with insider knowledge of the sport. Great players don't always make great announcers, however, so they are not chosen often. Top commentators typically start their careers with small, local teams and stations and work their way up. Often, they have their own shows on radio or TV and become well known for them. They have a track record they can prove and taped shows or broadcasts that speak for their on-air talent.
Stephen A. Smith started out as a print journalist and sportswriter, then eventually got his own column and radio show before appearing on TV. His career has had many ups and downs, however, including being demoted and fired from several jobs, as written in his bio on Encyclopedia.com. One of the most famous play-by-play announcers, Marv Albert, called the New York Knicks and Brooklyn Nets in his 55-year career and retired in summer 2021 with a ​$2M​ salary, as noted by The Daily News.
NBA Announcer Education Requirements
Most NBA announcers have college degrees. Players who become announcers played in college before being drafted by the NBA, so they are top-tier basketball players, typically for Division I schools. Announcers who were not college players usually earned bachelor's degrees in journalism, communications, media or similar majors, according to the Bureau of Labor Statistics.
Broadcasting is a highly competitive field though, even for entry-level jobs, so writing or editing the school newspaper, getting internships at radio or television stations or part-time jobs in sports writing or broadcasting can make applicants more competitive. Like becoming a pro athlete, getting hired as an announcer/commentator for the NBA or other sports leagues is a long shot for anyone. Many have the dream but few will achieve it, so be sure to have a backup plan.