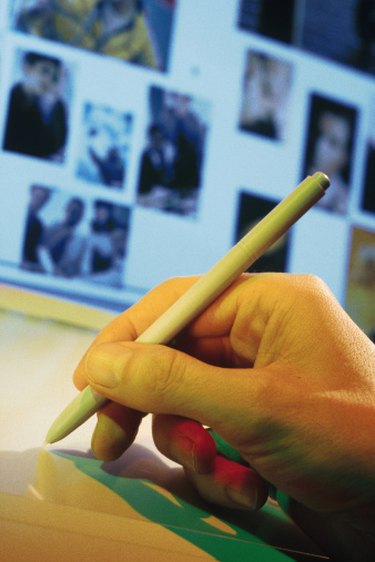 While a fashion designer conceptualizes new lines of clothing or accessories, the fashion illustrator translates these concepts into an artistic visual. Fashion illustrators work to bring the designer's vision to others using drawings, sketches, paintings or computer graphics. Many designers, though creatively inspired, don't have the artistic ability to present their ideas and so must team with a fashion illustrator who does. Fashion illustrators across the U.S. receive an annual mean wage of $51,340, according to the U.S. Bureau of Labor Statistics at the time of publication.
Job Requirements
Fashion illustrator job requirements vary by company. Some companies may prefer graduates from fine art or fashion design schools, while others may require little or no formal education. With an increasing reliance on computers, a fashion-oriented graphics design degree provides the up-and-coming fashion illustrator a means to obtain an entry-level position quicker than those who rely solely on their talents. Entry level positions range from $29,000 and up at the time of publication.
Trends
Fashion illustrators must stay abreast of current fashion styles, pay attention to emerging social trends and work closely with designers in choosing the right color schemes to enhance a clothing line. The fashion illustrator with a pulse on social, political and economic climates is better positioned to create illustrations that appeal to the consumer and reflect current themes. Experienced fashion illustrators often command salaries of up to $60,000 and more according to the Fashion Schools website, at the time of publication.
Fashion Professionals
Fashion illustrators classify as "fine artists" under BLS and work with a variety of professionals inside and out of the fashion industry. While some fashion illustrators work specifically with a designer, fashion illustrators also work for fashion magazines, advertising agencies, marketing firms, buyers and at times directly with seamstresses and tailors.
Job Growth
BLS projects job outlook and growth through 2018 at 12 percent, average in comparison to other jobs. It also states that demand for computer graphics and multimedia illustrators can expect to increase. Competition will be "keen" for both salaried and freelance professionals. Fashion illustrators with career aspirations my look to Andy Warhol as a fashion illustrator who made the jump from fashion illustrator to fine art. Known as the "father" of pop art, Warhol began his artistic career as a graphics illustrator working for "Glamour Magazine," "Vogue," "Harper's Bazaar," Tiffany & Co. and others. Transitioning into a renowned artist can bring income ranging in the millions.