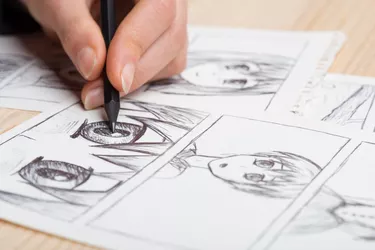 How much do novelists make? Much depends on the genre of writing and how well the work sells. A newer category of books is the graphic novel, and these are written and drawn by cartoonists and comic artists who use long-form narratives as opposed to the slimmer, shorter comic books. This writing can be a lucrative line of work. Many work for mainstream publishers, while others do pretty well on their own.
The U.S. Bureau of Labor Statistics includes a novelist's salary in the category of "writers and authors," showing an average salary of ​$69,510​ a year for 2021. Of course, this statistic includes many other kinds of writers, like people who write comic books, ad copy and all sorts of other documents, books or media. Many people just starting in the graphic novel space decide to self-publish graphic novels, which can save a lot of money compared to the fees that big publishers charge.
Graphic novelists who work with mainstream publishers, like DC Comics and Marvel, use established characters owned by the companies and often freelance. These writers generally earn about ​$75 to $120​ for scripts and plots and get paid by the page. Artists can make more, with estimates ranging from ​$100 to $250​ a page for pencil artists, ​$74 to $200​ a page for ink artists and ​$100 to $150​ a page for colorists. A comic book writer salary can be similar to these figures, but it will depend on exactly where they end up obtaining employment.
How to Become a Graphic Novelist
To become a graphic novelist, you will need to have a strong foundation in art and storytelling. Many graphic novelists start out as artists or illustrators, so pursuing a degree or training in these areas can be helpful. You should also be familiar with the comic book industry and know how to create engaging and compelling stories. If you can combine your artistic skills with your storytelling ability, you can be successful in this industry.
Some educational programs, like the one from Lasell University, help teach students how to craft an effective narrative. They point out that many students may gravitate toward drawing but not storytelling, or vice versa, but aim to strengthen student skills in both areas to better prepare pupils for their careers.
Writers for Commart explain that graphic novelists can forge a career path by piecing together gigs and projects after they graduate. Some are successful taking jobs for commercial companies, many of whom hope to reach younger audiences and appreciate the styles of graphic novelists in their ad and marketing campaigns. As with many other careers that are often piecemeal or freelance in nature, it pays to determine the rate you'll need to charge and find gigs that suit your budget. You can build a portfolio over time and gradually take on larger, better-paying or more prominent projects as you gain additional experience.
Piecing Together a Career in Graphic Design
At times, it may prove difficult to work as a graphic novelist, particularly since, as the writers for Commart express, publishers are often hesitant to work with inexperienced artists. If you do not have a large body of work or many projects lined up, you may need some funding to get you through a dry spell. Fortunately, there are grants to support graphic artists and others in related fields as they build their body of work, explain the writers for Webcomics.com.
Some awards offer a bit of money but are more about exposure. For instance, you could pursue the Cupcake Award, which is part of the Chicago Alternative Comics Expo festival. Winners receive a ​$250​ award with which they can print a new minicomic. Winners also get a free half table at the CAKE 2022 festival, where they can share their minicomic. In addition, winners will be promoted in the lead to the show in 2023.
The Sustainable Arts Foundation's ​$5,000 grant​ is given to struggling writers of any genre who have a family; you must have one child under age 18 to qualify. The Speculative Literature Foundation awards its Older Writers Grant for applicants age 50 and up; it accepts pieces from writers in speculative literature, fantasy, fairy tales and science fiction. It does not exclude graphic novelists.