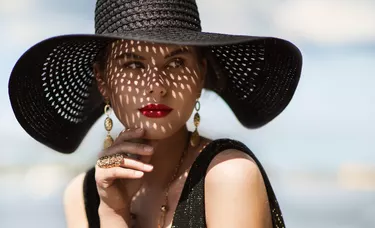 Years back, fashion editors mainly worked at magazines like ​Vogue​ and ​Harper's Bazaar​ or at newspapers, but now they also hold these positions at fashion websites. These are not entry-level roles, and many of these individuals start as columnists, administrative assistants and creative directors. The top editors in the world can earn staggeringly high salaries. ​Vogue​'s editor-in-chief Anna Wintour's salary includes incredible perks like free clothes and travel; her estimated net worth is $50 million.
Fashion editors have the same responsibilities that other magazine, newspaper and website editors have. They supervise content sourcing, development, creation, organization and editing; this includes articles, photos, illustrations and videos. Much of their time is spent coordinating their activities with other departments, like sales and marketing. Their job titles can vary, too; one could be an editor-in-chief, junior editor or senior editor. Some editors work remotely, while others are on-site or hybrid; they can work part-time, full-time or as freelancers.
The experts at the U.S. Bureau of Labor Statistics group all editors into one category and show a median pay of ​$63,350​ per year or ​$30.46​ an hour; most editors have bachelor's degrees. There were ​108,600​ of them employed in ​2021​. Interestingly, the salary for a fashion illustrator wasn't all that far removed from that of a fashion editor; it was estimated to be lower at ​$51,340​. According to the U.S. Bureau of Labor Statistics, successful fashion designers typically earn more, with an average reported salary of ​$77,450.​
How Much Money Do Editors Make?
The amount of money that editors can make depends on the industry they work in, their experience and how successful the publication is with users and advertisers. Professional scientific and technical editors make the most, averaging ​$78,270​. Religious, professional, civic, grantmaking and similar employers also pay their editors well, with a median of ​$77,000​. This is followed by other information services at ​$69,880​; the last was newspaper, book, periodical and directory publishers at ​$61,060​. Those figures may not include a Vogue magazine editor salary, though.
Attorney editors can earn good livings because they have law degrees and the writing is more complex. This kind of work is for lawyers who use their legal education for the publishing industry. They conduct legal research and write and provide analyses for legal developments. These experts also review and revise work created by other attorneys and outside authors.
Entry-level attorney editors can earn around ​$38,000​ a year, and those with more experience earn significantly more. The averages range from ​$59,000 to $69,000​, and senior attorney editors can earn higher figures. They work for law firms and can also find opportunities at legal publishing companies like Reed Elsevier and Wolters Kluwer.
What Do Editors Do All Day?
An editor's schedule is generally determined by production deadlines and how often their publication is released. Some websites update daily, while fashion magazines generally come out once a month. The pressure increases when the deadlines approach, leading to working longer hours during crunch time. Editing is usually pretty busy work, so it's crucial to stay organized. Some also manage live broadcasts, adding even more stress to the role.
Editors coordinate their efforts with all of their own staff members, plus other departments. For example, if an advertiser purchases a full-page perfume ad, the editorial content near it should complement it. The editor might assign one of the writers to research and compose an article about the best body parts to spray fragrances on. Other daily duties could include rewriting an article with incorrect statistics, hiring a new photographer, attending a fashion show and pitching in to write a last-minute column.