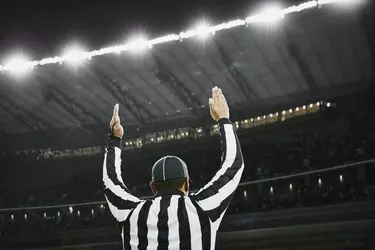 You never can tell what can happen at a pro sports game, but the referees who keep order at them are always ready to step in when needed. These workers have challenging, exciting job responsibilities and can make excellent livings, but how much do NFL refs make, and what is an NBA referee salary? NFL, NBA, MLB and NHL refs work part time, about 20 weeks in the preseason. Their salaries are impressive, and many also earn extra money when they work in the playoffs and big games, like the Super Bowl.
How Much Do Sports Referees Earn?
According to the U.S. Bureau of Labor Statistics, those working in the category of "umpires, referees and other sports officials" averaged a yearly pay of ​$35,860​ in 2021. Keep in mind that these employees work at competitive sporting and athletic events that take place at schools and other places that do not necessarily include the major leagues. The work is generally part time and seasonal, with schedules that include evenings, weekends and holidays in all kinds of weather.
To become a referee, umpire or other sports official, you have to check with your state and local sports association for the requirements. Formal education is not usually required for these positions, while others want applicants to have a high school diploma. Many refs start at small schools and local recreation leagues and work their way up the ladder; those who get to the top of their field can earn the biggest bucks.
How Much Do NFL Referees Make?
These salaries are usually not made known to the public, but NBC Sports explains that the average NFL official earned ​$205,000​ annually in 2019. Those who made the most had more experience and worked in off-season games, like the Super Bowl. An official covering this game might end up earning an extra ​$40,000 to $50,000​ for providing services on this big day. NBC Sports also claims that an NBA ref salary could be even more substantial, ranging from ​$150,000 to $550,000​ a year in 2018.
However, as part-time employees, these individuals might not receive traditional health care benefits or a 401(k) plan. NFL referees are part of a union known as the NFL Referees Association, which handles their collective bargaining agreement. Once these arrangements are set, they can last for a few years, so the refs won't have to worry about their salary and benefits.
College bowl referees who work for the NCAA (National Collegiate Athletic Association) may earn decent salaries. These refs often start by working high school and minor league games and completing referee training. It helps to reach out to and then join a local athletics conference to see the next steps in the career trajectory; the NCAA has a lot of rules for those who wish to officiate at a college level.
Another good way to get started in this line of work is to be a volunteer referee or coach. Some tax breaks may be available for some of the costs incurred while volunteering, which can provide you with some help along the way. The time spent can't be deducted per se. Still, it is often possible to write off unreimbursed expenses if the group for which you are volunteering is a tax-exempt, qualifying 501(c)(3) nonprofit that is recognized by the Internal Revenue Service. Out-of-pocket costs, like team T-shirts and snacks, may qualify in these situations.
More importantly, volunteering is beneficial, as it can help you gain valuable experience and make meaningful connections. These two areas are essential when you're looking to further your career as a well-paid referee.