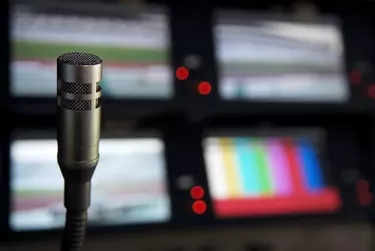 A sports commentator can be objective or subjective. Play-by-play announcers describe who is up to bat, who threw a pass and how plays pan out, while color commentators analyze what happens and provide details about events surrounding it as well as their personal opinions and information about the players' backgrounds. Naturally, the comments usually overlap quite a bit and combine to offer watchers and listeners well-rounded coverage. How much does a sports commentator earn?
Sports Broadcaster Salary
Working as a sports announcer involves researching teams, players and their performance statistics and staying up on current events that impact the league and all its employees. There are often lulls in action during games, and that empty space needs to be filled in by the commentators; otherwise, listeners and viewers will lose interest. The U.S. Bureau of Labor Statistics includes sports broadcasting salary amounts in the "announcers and DJs" category and shows a 2021 median pay of ​$45,810 a year​ or ​$22.03​ an hour. Well-known and experienced ones (especially former athletes) who work for the major leagues will earn much more than those figures.
Public broadcasting commentators who work at small events, like minor league and high school football games, get paid low hourly rates, but it can add up to a few thousand dollars a month for those who work a lot. This position is an excellent way to get started in the field, and many aspiring sports commentators start by volunteering or interning at local games. The highest-paid ones in the world work on radio or television for the major networks, like FOX and ESPN. These individuals can earn six figures or higher. Those working full time in this industry often sign contracts that include health care and other benefits, but part timers rarely get these.
Working as a Sports Broadcaster
Aspiring sports broadcasters do not always need to have a college degree, but successful ones often have a degree in journalism or broadcasting. The work can be part time, full time or seasonal and can happen during daytime, nighttime, weekends and holidays. Those who work in this field often have to travel to different playing fields, have comfortable working conditions and work independently or with other announcers. They work with high-tech broadcasting equipment and get trained on properly using it.
This broadcasting role is not a job that requires physical labor, but there can be a lot of travel involved. It is also essential to look professional and stay highly focused on the games because distractions will take away from the announcing. Listeners, viewers and employers will notice when a sports commentator is not up to par. If this happens more than once, it could jeopardize one's job. Getting a good night's sleep and taking care of your health is important for this kind of work.
A sports agent is the same as a player-manager, and although most don't typically earn millions of dollars a year, the best ones are well compensated for their efforts. According to the U.S. Bureau of Labor Statistics, the range for this line of work is ​$47,370 to $208,000​. These staggering salaries are based on what their top players earn, which can be composed of what they make on their contracts plus added monies from sponsorships. The top ones in the world can make hundreds of millions each year; Scott Boras is likely in this elite category.
To become a sports agent, you'll need to form a solid foundation by pursuing a four-year bachelor's degree in sports management or a closely related field. Since negotiating contracts is a crucial skill to have, it may also be a good idea to consider sports internships or a master's degree that focuses on this kind of work. Graduates can apply for work at sporting agencies, and some do well enough to branch out on their own. The major league sports agent positions are highly desirable, so you can expect those to be very competitive. Once you get your first job out of school, make networking your priority, as sports professionals form strong bonds and often hire people they know.