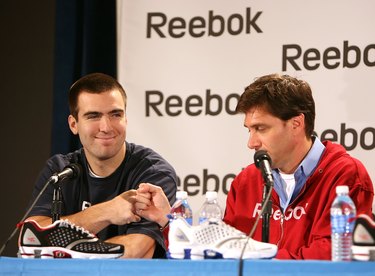 Throughout the U.S., sports radio hosts can be heard debating and discussing some of the hottest topics in professional basketball, football, baseball and other sports. Some sports radio hosts have national audiences and attract major sponsors. However, this is not the norm and the salaries of the majority of radio hosts are modest at best.
The Basics
Much of a sports radio hosts duties include announcing, such as announcing station program information, commercials and public service information. The average salary of radio announcers is $19.19, or $39,910 yearly as of 2010, according to the Bureau of Labor Statistics. Hosts may work a variety of hours and shifts and perform additional duties, such as interviewing guests, researching information and even broadcasting live events.
A Closer Look
Women Sports Services lists the salary ranges for sports radio hosts as follows: $25,000 on the low end, $75,000 for those in the 50th percentile of earners and $150,000 for those earning the highest salaries as of 2002. In comparison, the Bureau of Labor Statistics lists the salaries for lowest earners at $16,590 annually with the highest 10 percent of earners making an average of $72,500 annually as of 2010.
By Location
Radio announcers, which includes sports radio hosts, work in cities and states all across the country. Still, salary levels may vary according to location. The average salary for radio personalities in California is $57,150 annually compared to $44,180 in Texas as of 2010, according to the Bureau of Labor Statistics. Washington D.C. has the highest salary for radio announcers at $93,690, according to the bureau.
As Broadcasters
Sports radio hosts may earn extra income performing work as sports broadcasters. Mike Greenberg and Mike Golic of "Mike and Mike" broadcast Monday Night NFL games in addition to hosting their popular morning sports talk show. The Bureau of Labor Statistics notes that television announcers earn more than radio announcers. College Crunch, a comprehensive college online resource, lists the average salary for television broadcasters at $83,370, with starting salaries of approximately $30,000.