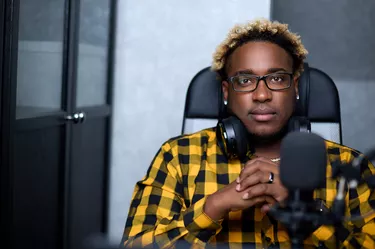 Do you have a love for sports and enjoy discussing the latest events? In this case, you could make a career in radio broadcasting. With the right education, you may become a sports radio host or radio personality, like Howard Stern, Glenn Beck or Ryan Seacrest​​.​​ How much you can earn depends on your experience and the radio station for which you work.
Sports radio hosts or radio broadcasters share the latest industry events with the public. You'll hear them debating and discussing a variety of topics in professional football, rugby, basketball, tennis and more. Sometimes, they are referred to as sports radio presenters, announcers or talk show hosts depending on their job duties. These media professionals are typically responsible for:
Presenting live sports games
Sharing their opinion about sports events
Interviewing athletes, sports managers, coaches and other guests
Giving commentary on the game
Creating engaging content for sports fans
Making appearances on behalf of the radio station
Hosting podcasts
Interacting with the audience
Operating radio equipment
Reading commercials and sports news
Your responsibilities as a radio announcer will depend on the job. For example, you may have to create social media content, analyze sports events or predict the outcome of sports games. Sports radio hosts also need to research the topics they're going to discuss and present them in layman's terms. Sometimes, they'll attend public or private events on behalf of the station, make public service announcements and take calls from sports fans, notes the U.S. Bureau of Labor Statistics.
This kind of work requires in-depth knowledge of the sports industry. You need the right vocabulary and strong communication skills as well as the ability to multitask and make quick decisions. Understanding the technical aspects of broadcasting is just as important, as you may need to edit audio and video content and work closely with the production team, explains Dean College.
Most radio hosts and DJs hold a bachelor's degree in journalism, communications or a related area. Some start as interns at radio or TV stations, which allows them to gain experience. If you're still in high school or college, consider taking speech classes to hone your presentation skills. Alternatively, you can work at your school's radio station and later complete a relevant degree program.
Grand Canyon University, for example, offers a Bachelor of Arts in Communications program covering public relations, negotiation, argumentation and more. American University, Arizona State University, Penn State and other reputable schools have undergraduate degree programs in journalism, so you might want to check them out. Another option is to complete a bachelor's degree in broadcasting at Cornerstone University, State University of New York at Oswego or another school.
However, most employers will focus on your skills and experience. Candidates with a background in sports may have a competitive advantage. Try to learn more about the sports in which you're interested, start a website or blog and publish relevant content, such as podcasts and sports commentary. You could also set up a YouTube channel and discuss current sports events. What matters most is building a strong portfolio.
Radio hosts typically work full time, but it's possible to find part-time jobs as well. The median annual salary is around ​$56,110​ depending on location, job title and duties, years of experience and other factors, reports the U.S. Bureau of Labor Statistics. The highest earners make about ​$103,090​ per year, while those who are just starting out receive ​$30,000​ or less. If you live in Los Angeles, expect to make approximately ​$61,410​ per year. Radio DJs and broadcasters based in New York have an annual salary of ​$116,440​, but the cost of living is higher compared to other states.
The highest-paid radio host of all time is Howard Stern, according to Forbes. The American radio personality makes a staggering ​$95 million​ a year, but he has been in business for nearly five decades. Radio talk show host Rush Limbaugh had an annual income of about ​$63.8 million​, while Sean Hannity, a conservative political commentator, earns more than ​$29 million​ per year.
Job Mobility and Career Growth
If you're new to this industry, consider starting out as a DJ, assistant producer or radio broadcast assistant. Meanwhile, continue your education and join a professional organization, such as the National Association of Broadcasters. There are also employment opportunities in student radio, community radio and other related fields. Any of these options could kick-start your career and help you acquire relevant experience.
Local radio stations have limited resources and may not offer the best environment for career growth. You may work at a small radio station to hone your skills but keep an eye out for other opportunities. As you gain experience, start looking for jobs at large-market stations. Later in your career, you may become a producer, radio station manager or director. Some radio hosts move into television, which allows them to reach larger audiences and build new income streams.
As far as the industry goes, the demand for radio hosts and DJs is expected to grow 15 percent between 2020 and 2030. The U.S. Bureau of Labor Statistics estimates that employers will offer more than 6,000 jobs per year to fill the gap left by retiring employees. The growing number of internet radio stations, streaming services and podcasting services is fueling the demand for professionals in this field.
If you're just starting your career, look for radio host jobs at local stations. Alternatively, use an app like AirTime, RadioKing or Radio.co to launch your own radio show. Later, you may apply for jobs at Washington's Top News, KIIS-FM, Sports Radio 66 AM and other popular radio stations.