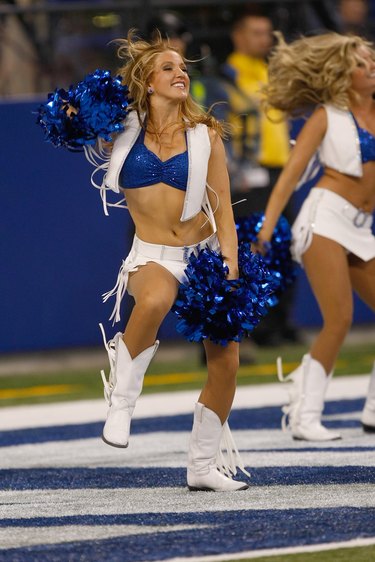 Watch any NFL game or NBA game and you are likely to see cheerleaders doing dance routines and performing for the crowds to further incite enthusiasm for the home team. Much like the teams on the field or floor, cheerleaders are guided by coaches who are paid to develop and assign routines, schedule practices and hire cheerleaders. Salaries for professional cheerleading coaches can range from minimal salaries to close to six figures.
Base Numbers
The Bureau of Labor Statistics lists the average salary of coaches in spectator sports at $60,610 as of 2010. However, the bureau notes that salaries may be higher for professional coaches. Yet, the salaries of professional cheerleading coaches are much lower.
A Closer Look
In the NFL a cheerleader may earn a meager $6,000 yearly in salary from games and special appearances and work only during football season. In comparison, NBA cheerleaders earn between $50 and $150 per game and work 41 games during the season. Each team in the NBA plays 41 home games. Cheerleaders in professional sports are referred to as dance teams, and choreographers are responsible for creating and implementing routines. As such, salaried choreographers, according to the Bureau of Labor Statistics, earned an average of $42,110 as of 2010. The middle 50 percent earned $37,660 with the highest earners making $71,180 as of 2010. Choreographers in spectator sports, including both the NFL and NBA, earn $48,280, according to the bureau as of 2010.
The Collegiate Level
Though considered an amateur sport, college football earns billions of dollars in revenue and Division I teams have cheerleaders that function in the same way as cheerleaders in professional sports. Professional cheerleading coaches for college teams are well-paid as evidenced by a June 2011 article for the Capstone Report. The article lists the salary of a former University of Alabama's professional cheerleading coach at $85,000 a year.
The High School Level
Professional cheerleading coaches may be even be paid on the high school level. A starting head basketball cheerleading coach may earn $1,694.70 per month compared to $2,034.90 for a cheerleading coach with five to eight years experience, according to a 2011 report by the High School OT website. An assistant JV cheerleading coach can earn $1,132.60 monthly during the first year. More experienced assistants can earn between $1,244.60 and $1,694.70. It is important to note that these figures represent what high school cheerleading coaches made after a 30 percent decrease in salary.