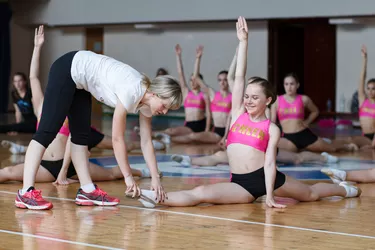 Cheerleading exists on a sliding scale, from competitive athletes to expert dancers and performers, all requiring different coaching styles and techniques. If you're curious about cheer coach salaries, where's a better place to look than perhaps the most famous cheerleaders in sports, the Dallas Cowboy cheerleader coach salary? Here's what you should know about it before choosing a career path.
Cheerleading Coach Job Description
Cheerleading has a different definition depending on who you ask. Cheerleaders at sporting events, such as the Dallas Cowboy cheerleaders, are skilled dancers, while cheerleaders who compete at the high school and college levels are skilled athletes. Each type of cheerleading requires very different skills. Think of Monica Aldama, the head cheer coach at Navarro College in Texas. She is responsible for finding talent, training her team, creating dance routines and much more, according to the Netflix documentary "Cheer."
Regardless of the type of cheerleading, cheer coaches lead the squad and guide them throughout the training process, such as directing strength training exercises, teaching choreography and observing the squad during practice and performance. Sometimes, these professionals work with an assistant coach whose role is to maintain the equipment, make travel arrangements and schedule practice sessions, among other duties.
Whether the head coach works for a cheerleading organization or a competitive squad, they will likely spend more time on routine development and teaching advanced techniques than coaches at a high school level or a professional sporting event level. Their job is similar to that of a gymnastics coach, as it involves a mix of choreography, art, improvisation, props and other elements.
Cheerleading Coach Education Requirements
Whether you aspire to be a Dallas Cowboy cheerleader coach, a coach of a high school-level team or a competitive cheer coach, you will need adequate training and cheer experience. Having in-depth knowledge of the most popular stunts and moves is a must, especially for competitive cheer coaches. The exact requirements depend on the organization or team you work for.
Generally, coaches need a high school diploma or equivalent and a bachelor's degree, says the Bureau of Labor Statistics (BLS). Part-time coaches and those working in small schools may not need formal education. In most cases, you must be at least 18 years old to get a job in this field.
Cheer coaches with a college degree typically majored in physical education or sports and fitness. Therefore, they have a good understanding of training methods and the toll cheerleading can take on the body, notes Indeed. Practical experience often trumps college majors.
Many cheer coaches choose to receive certification from USA Cheer, formerly the American Association of Cheerleading Coaches and Administrators (AACCA), a non-profit organization that promotes safety and safety education for cheer within the United States. Through USA Cheer, there are numerous training courses on athlete safety and risk management, a coaches' course on athlete protection and comprehensive high school cheer rules, to name a few.
Other courses recommended by USA Cheer include concussion education, heat illness prevention, first aid and the National Federation of High School Associations (NFHS) Fundamentals of Coaching for those at the high school level. The organization also features cheer coach jobs on its website, so you might want to check them out.
Cheerleading Coach Industry and Work Environment
Cheer coaches may work in high schools or colleges or join athletic teams. Some are employed by organizations that deal with athletes. Professional coaches usually work for cheerleading organizations or competitive squads, such as Cheer Florida All-Stars or Jamaica Bulldogs, a young football and cheerleading organization based in New York. Depending on the job requirements, they may have to travel across the state and work overtime, especially during the sports season.
The average salary in this industry is about ​$50,000​ per year, according to Glassdoor (based on self-reported data). However, cheer coach salaries and wages may vary depending on location, employer, years of experience and cheerleading style, among other factors. For example, an All-Star cheer coach has an annual salary of ​$45,000​ or higher, reports Payscale (based on 881 salaries).
The national average for full-time coaches was ​$39,000​ in 2021, estimates the BLS, but the organization doesn't differentiate between the different types of coaches and does not have a "cheer coach" category. The Dallas Cowboy cheerleaders are perhaps the most famous in the country, more well-known than any competitive cheerleader team to those outside of the cheer circles.
These professionals have a base salary of ​$75,000​ per year, or ​$15​ to ​$20 per​ hour, plus an additional ​$500​ per game, according to Parade Magazine. They can also expect to make extra money from corporate, private and promotional appearances.
Cheerleading Coach Job Mobility and Career Growth
As the BLS notes, professional coaches have several years of work experience and a track record of success. Many start out as assistant coaches to develop their skills, but some have a background in sports, dance, gymnastics or a related area.
A professional cheerleader coach may end up working with elite sports teams or making a career in entertainment. Monica Aldama, for example, was featured in Netflix's "Cheer," published a book and competed on "Dancing With the Stars." You, too, can have a rewarding career in this field, but it takes time to achieve success.
Cheerleading Coach Job Outlook
The demand for coaches is expected to grow 26 percent between 2020 and 2030, much faster than the national average of 8 percent, reports the BLS. Finding work shouldn't be difficult, considering that employers offer over 45,100 jobs in this niche each year. The increasing number of student-athletes, as well as the popularity of college sports, is fueling this trend.
If you're just entering the job market, look for assistant coach jobs and other work opportunities that align with your career plan. For example, you could start as a dance or gymnastics coach at local schools and take it from there. Contact your local school district and offer your services as a cheer coach, even if it's on a volunteer basis. As you gain experience, reach out to professional sports clubs and cheerleading organizations.