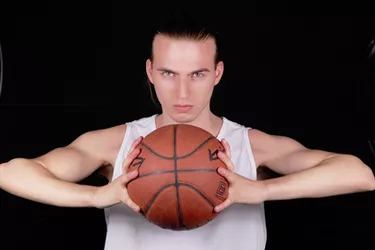 College basketball spans from small colleges playing in gyms in front of hundreds of fans to spotlight programs at major universities that compete in arenas that seat more than 20,000 rabid fans. Since the landscape of college basketball is so diverse, so are its coaches. According to USA Today, top-name coaches' annual salaries exceed $1 million--even up to $4 million--while coaches at smaller schools receive as little as five figures. Despite the differences in programs and coaches from school to school, all coaches have to meet some basic requirements.
College Education
College basketball coaches don't make it to the big time from jumping from high school into the coaching ranks. Instead, they go to college like people pursuing other careers. While there is no specific major needed to be a college basketball coach, majoring in a field like sports management or athletic training can give aspiring coaches insight into a career in college athletics. Some coaches go on to pursue graduate degrees in such fields, though a master's degree is not a requirement.
Coaching Experience
Coaching experience is the top requirement for any aspiring college basketball coach. Before earning a head coaching position, coaches often spend years climbing up the ranks on a basketball program's staff. They might start out as a basketball manager while they are in school or work as the video coordinator. The key step in securing a head coaching position is gaining a job as an assistant coach, which can give the aspiring head coach the experience and exposure he needs to succeed.
Playing Experience
Many college basketball coaches once started as players. For example, the University of Florida's head coach, Billy Donovan, took Providence College to the Final Four as the starting point guard. The University of Arkansas' head coach, John Pelphrey, played at the University of Kentucky. Experience as a former college basketball player gives the aspiring coach insight into the game that others simply cannot have. Thus, many college basketball coaches have been playing the sport since they were children.
Other Skills
College basketball coaches work on developing young men and women into talented players and, just as important, valuable members of their campus community. Thus, an ability to work with young people is essential. Coaches also should have proven managerial skills, as they oversee a staff of assistant coaches, administrative professionals and student managers. They also should be comfortable with public speaking, as addressing the media and sometimes signing endorsement deals are also part of the job.