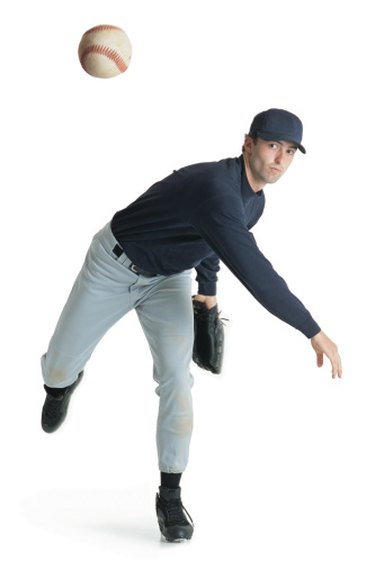 The road to becoming a professional baseball player typically involves a stop in the minor leagues. Unlike other professional sports, it is extremely uncommon for a newly drafted baseball player to make the opening day lineup for a Major League Baseball team. For many ballplayers, life in the farm system is tough, especially financially, in comparison to their major-league colleagues. Some often struggle to make ends meet.
First Season Under Contract
During the first season in which a minor-league baseball player is under contract to a major-league club, he can earn a maximum of $1,100 per month for the five-month season of Single-A. The season usually ends by late August or early September. Following his first year, the player's salary is open for negotiation. International players are paid a different amount, and the U.S. Immigration and Naturalization Service determines their salaries, according to Minor League Baseball.
After the First Year
Graduating through the ranks of the farm system entitles players to higher salaries. Double-A players earn a minimum of $1,050 per month. Triple-A players – the highest level of the minor leagues – earn at least $2,150 per month. Coveted minor-league free agents – available after seven seasons – usually sign for $12,000 to $25,000 per month, according to "Baseball America." When a player is added to the 40-man roster of a major-league club, he earns a minimum of $32,500 in the first year and $65,000 after that. If called up to the big leagues, players earn the major-league minimum ($400,000 in 2010) for the season (or a pro-rated amount if called up for less than a season).
Signing Bonus
Major League Baseball conducts its first-year players draft every June. Players selected must sign by a mid-August deadline. While numbers can range, top players are offered signing bonuses worth millions of dollars to entice them to sign with the major-league club, rather than go back into the following year's draft (some players choose to attend college despite being drafted or they feel they can get a better deal the next season). In 2010, the Pittsburgh Pirates selected Jameson Taillon second overall. He received the highest signing bonus of all players that year at $6.5 million.
Road Money
Players traveling on road trips (not playing at their home team's ballpark) are given $25 per day for meal expenses. Minor-league players have not always used this money for food. Dirk Hayhurst, a pitcher in the Tampa Bay Rays organization in 2011, wrote about his experiences as a minor-leaguer in "The Bullpen Gospels." He notes instances in which fellow players used the money for gambling or to bribe teammates for better seats on the team bus.
Just Getting By
While top draft picks will receive lucrative signing bonuses and can live through the minor-league grind comfortably, the same cannot be said for those selected in later rounds. Many players stay with host families who allow players to live in their homes as if they were a member of the family to help save money. Some players share apartments. A "Baseball America" article described a situation in which six players lived together and bought a television with the plan to return the TV to get their money back.