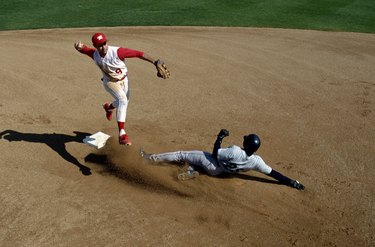 Only those talented and lucky enough can make it into major league baseball and earn jaw-dropping salaries, but a minor league baseball salary isn't really in the same ballpark. If you're wondering, "how much do minor league baseball players make," they earn monthly payments low enough to require taking on second jobs. It's also essential to know that getting into the MILB (minor league baseball) is not easy.
According to the experts at the U.S. Bureau of Labor Statistics, to get into the MILB, you'll have to do well on your high school or college baseball team; scouts attend the big games, scope out the players and make offers to the lucky ones. Most MLB players get their starts in the MILB, and their life in the farm system awards the best players but doesn't pay nearly as well. MILB players who make the cut start with meager pay, but some of their expenses may be covered, and some seek out sponsorships. It's also important to know that international players get paid different amounts set by the U.S. Immigration and Naturalization Service.
In a minor league baseball player's first season under contract, he will earn a weekly minimum salary of ​$500​ for a Single-A five-month season, according to the writers at Sports Illustrated. This normally ends in late August or the beginning of September. After that, the salary is open for negotiation. Single-A is the lowest rank in the farm, and skilled players who advance to AA will earn at least ​$600​ a week. The highest MILB level of pay is an AAA baseball salary, with pay that can rise to a minimum of ​$700​ a week or more.
Minor-league free agents who advance to these positions after seven years can sign lucrative contracts that pay from ​$12,000 to $25,000​ a month during the season. If the player is added to a 40-man roster for an MLB club, they'll earn at least ​$32,500​ in the first year and about ​$65,000​ afterward. Those called up for the biggest leagues earn salaries in the hundreds of thousands of dollars.
MILB Salaries for Baseball Managers
MILB baseball managers also have to work their way up through the farm, starting in high schools and colleges and making it into Class A in the minors. They are employed by the MILB instead of the separate league franchises, so their pay is determined by their value and worth to the team. This pay structure motivates them to develop their players fully and prepare them for major league play. They get paid more if they succeed and send many MILB players to the MLB.
The salary range for MILB managers is ​$20,000 to $60,000​ a season, which can extend past the typical five-month playing season. It's still considered part-time work, though, so the players and managers can try to earn more money during other times of the year. The truth is, MILB players and staff aren't earning top salaries, but there is the potential for this in the long term. The writers at the Indeed Career Guide note that those who stay on even when they don't make it into the big time do it for the love of the game.
Playing Baseball in College
Some incredibly talented players get scouted and invited to join the MILB or MLB while still in high school, but this is definitely the exception rather than the norm. Everyone who doesn't can consider attending a college or university with an outstanding baseball program. Many high school players are offered scholarships, but this is the exception rather than the norm since the field is so competitive.
Once a student narrows down their school choices, the application process begins. There are well over 1,000 schools that offer baseball programs, and the levels are NCAA Division 1, 2 and 3, plus junior college and NAIA (National Association of Intercollegiate Athletics). Many colleges accept the Common Application form, and there are a lot of blanks to fill in, plus essays. The process also involves getting high school transcripts, taking SAT and PSAT tests, submitting player performance records, teacher and coach recommendations and paying fees.