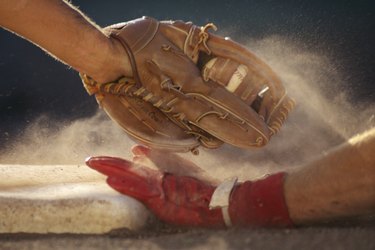 AAA baseball is the top echelon for minor league baseball, and this is where pro players and managers cut their teeth for the major leagues. The salaries there are significantly lower when compared to those offered by major league baseball and serve as a solid incentive to work hard and succeed at the game. Managers and players often start playing rookie ball in high school and college and can enter Class A if they make the cut. AA and AAA minor league teams are the steps separating Class A from MLB. How much do minor league AAA managers earn per year?
According to the U.S. Bureau of Labor Statistics, a Triple-A salary for a manager, which falls into the coaches and scouts category, has a median salary of ​$38,970 per year​. Still, you can figure that the AAA managers make a bit more than average. This kind of work is seasonal and part time, though. These managers are free to explore other pursuits in the off season, like holiday jobs. It is also an excellent time to network in the field, exploring ways to form bonds and make connections that could lead to minor or major league opportunities.
Baseball AAA managers are employed by their franchise team's parent major league club rather than the individual minor league team. As a result, a salary reflects a manager's potential net worth and future value for the major league team. This future value in turn depends on how well the minor team earns revenues. When more of a minor league team's players get sent to the majors, the managers have a much better chance of getting a raise.
It is no wonder that minor league baseball managers aspire to get into the big leagues, as the average salary of MLB managers is well over ​$1 million​ annually. Compared to a minor league manager, the job responsibilities are similar but on a much larger scale. Both delegate assignments; choose opening batting lineups and field positions; implement game plans; and manage hitting coaches, pitching coaches and other staff members. Some MLB managers also work full time instead of part time.
Hitting and pitching coaches are usually the highest-paid coaching staff members since their actions can influence the number of runs that teams get. It is not surprising that NFL and NBA managers earn more; these salaries were three to four times more for the most successful ones. So, while baseball is America's favorite pastime, it seems as though more people attend and watch basketball and football these days (or the games produce higher revenue).
Baseball season runs from April to September, with post-season games occurring afterward. Sports managers generally work for half the year with the other six months at their disposal. Although you might think that only working six months means you wouldn't need to pay taxes, this is not the case. The taxes you do or do not have to pay depend on how much money you make in an entire year, and it has no relation to the number of months worked.
The IRS provides a resource called Publication 501, which explains who needs to file taxes for 2021, and there are different rules for dependents, individual and joint returns and other categories. While the amount owed by a part-time worker, like an AAA baseball manager, will be lower than a full-time MLB manager, you still need to pay what is owed to Uncle Sam. Remember that many baseball managers receive tips, which will also need to be included in the salary if they meet or exceed a certain threshold.