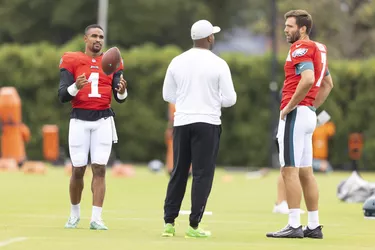 Quarterback coaches have the enviable (or maybe unenviable) task of pushing football quarterbacks to their best abilities. Quarterbacks are the players who initiate the action on the field, meaning they are the de facto leaders of their team. Quarterback coaches work behind the scenes teaching techniques and plays to even the most seasoned veteran players. Quarterback coaches also help the star player become a team leader by teaching valuable lessons about leadership both on and off the field. Sometimes, they even lead their NFL players to the Super Bowl.
NFL quarterback coaches are responsible for much more than just teaching the quarterback how to throw a football. They also have to teach them how to read defenses, make quick decisions and lead the team on the field. Quarterback coaches must communicate effectively with their players and help them understand complex game plans. They also need to be able to motivate their players and get them to buy into the team's goals.
They run drills, like the underneath snap drill and the shotgun snap drill, while teaching how to release the ball properly. These drills often involve other players, like the center or receiver, who work directly with the quarterback to run for touchdowns. Quarterback coaches work directly under NFL head coaches, including Bill Belichick of the New England Patriots, Sean McVay of the Los Angeles Rams, Matt Rhule of the Carolina Panthers, Mike Tomlin of the Pittsburgh Steelers and Sean Payton of the New Orleans Saints. These coaches started as assistant coaches in the National Football League and have moved to head coaching roles.
While there are no formal education requirements for quarterback coaches, obtaining a bachelor's degree in sports management, sports science or a related field is advised. Other related degrees are kinesiology, physiology and nutrition; these will encompass most topics related to sports fitness. Coaches must know how to properly care for their players' body in addition to their mind. The QBs can't get to the ESPN highlight reel or the playoffs without their coaches' innate football knowledge.
Generally, hiring managers can overlook the education requirements if the applicant is otherwise qualified. Many professional coaches are hired for their abilities rather than their education. Most NFL teams will hire former players or coaches who have risen through the ranks for years. Most NFL head coaches started in the league as assistant coaches.
Volunteer Coaching Experience
One of the best ways to become a quarterback coach is by volunteer coaching. Professional football coaches start playing young and begin coaching soon after their career ends. That means that by the time they're in the big leagues, they have years of experience under their belt. For example, one of the top quarterback coaches, Andy Reid of the Kansas City Chiefs, started over 30 years ago and has remained one of the highest-paid and most well-known coaches in the NFL.
If you volunteer to coach at a recognized nonprofit organization, you can write off your coaching expenses for your yearly taxes. To find out whether the organization for which you coach is a recognized nonprofit, you can use the tools provided by the tax experts at the IRS.
Quarterback coaches' salaries can vary greatly depending on the league, their experience and their track record of wins and losses. According to the U.S. Bureau of Labor Statistics (BLS), median coach salaries are around ​$38,970 per year​. While this annual salary is for coaches at any level, the average salary for professional coaches, college football coaches and NFL coaches is much higher. Location will also play a significant role, with teams in larger cities, like the New York Jets, Dallas Cowboys, Atlanta Falcons, Miami Dolphins or San Francisco 49ers, paying more.
NFL coaching salaries for head coaches depend on the team they work for and their winning record. Bill Belichick of the New England Patriots tops the list of the highest-paid NFL coaches, making nearly ​$18 million annually​. Next up is Super-Bowl-winning Pete Carroll, the current NFL head coach for the Seattle Seahawks, making an astounding ​$11 million yearly​.
The sports industry is thriving better than ever, and sports fans aren't going anywhere. With teams constantly changing and the landscape of football remaining much the same, there is always room for more players and coaches. Quarterback coaches, a type of assistant coach, may have a limited scope in that they only coach one player at a time, but they are in demand. These assistant coaches are generally under head coaches.
There are several other coaching positions within football, each with its own job and players. Other positions, like the defensive coordinator, linebacker coach, offensive coordinator or special teams coach, will also grow. The BLS says the projected job growth for coaches over the next 10 years is a staggering 26 percent growth rate. It predicts that nearly 64,000 coaching positions will open between the years 2020 to 2030.