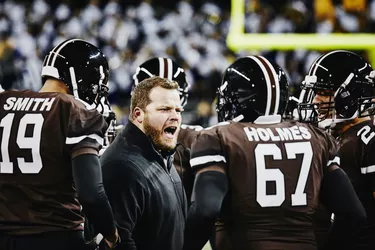 Division III schools stress academics over athletics, and athletes at these schools are not awarded scholarships to attend college. Division III assistant football coaches have the job of teaching a part of the football team skills and strategies to win a game. These assistants may also check the equipment and scout for new recruits. These assistant coaches are paid on a much smaller scale due to the smaller emphasis placed on athletics at Division III schools.
Qualifications for an Assistant Coach
Assistant football coaches at Division III schools typically get their training from having played football at some level in the past. By playing the game professionally or at the college level, they learned the basic rules and skills necessary to assist in coaching. A D3 football coach salary is not nearly as high as that of a head coach, but theoretically, these supporting staff members have fewer responsibilities.
These coaches are also usually required to have obtained a bachelor's degree at an accredited school. The degree can be in anything but usually it is in an area related to coaching such as physical education.
Assistant Football Coach Salary
As of this writing in July 2022, the average salary for coaches and scouts is ​$38,970​ per year, according to the United States Bureau of Labor Statistics. They do not break up these salaries in a very granular way, but they do state that coaches who work at colleges or universities tend to get paid an average of ​$48,710​ per year. Other sources like Glassdoor indicate that a salary specifically for a Division III assistant coach is in fact a bit higher, at ​$56,311​ per year.
Assistant coach salary tends to vary based on the assistant coach's education, his or her experience and the financial status of the school. There are about ​249,900​ jobs in this category available as of July 2022, and jobs are expected to increase quickly. The Bureau of Labor Statistics suggests that jobs will increase by ​26 percent​, between 2020 and 2030, which is much faster than average.
Instead of salaries, some schools only offer stipends of about ​$5,000 to $10,000​ for assistant coaches during the football season. Along with the stipend, the assistant coaches may receive extra compensation in the form of room and board.
Other Benefits for Assistant Coaches
Besides a base salary, assistant football coaches for Division III teams typically receive other benefits. These benefits can include health insurance, disability insurance, life insurance, sick leave and vacation pay. In addition, assistant coaches can receive housing and meal plans, in some instances.
Depending on where they coach, they may also receive tuition reimbursement to take some graduate classes. The assistant coaches also have their travel expenses covered during away games. The additional benefits offered depends on the school.
Job Outlook for Assistant Coaches
The job outlook for Assistant Division III football coaches is expected to increase over the next 10 years. Due to population growth, the number of students, and therefore schools, is expected to increase.
Even though athletics budgets are usually trimmed first when the economy decreases, athletic supporters tend to raise enough money to keep programs intact. These fund-raising efforts allow the Division III schools to keep assistant football coaches.