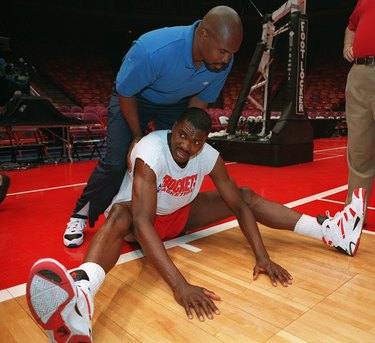 Seldom seen or heard, NBA strength coaches are among the most valuable behind-the-scenes players on NBA teams. Every NBA team employs a strength coach to help players develop and maintain their bodies through weight training, exercise, nutrition and even rehabilitation when players are recovering from injury. Though they do not earn nearly the amounts that the players they nurture do, NBA strength coaches earn a healthy salary.
Average Salary
NBA strength coaches are one of the many coaches on an NBA team. The Bureau of Labor Statistics lists the average salary for coaches in spectator sports at $60,610 as of 2010. While NBA strength coaches may earn salaries in this range, they can certainly earn significantly higher salaries.
More Numbers
The work of NBA strength coaches also categorizes them as fitness instructors. The BLS lists the salary of fitness and aerobic instructors at $34,310 as of 2008. The middle 50 percent earn only $29,210 compared to the highest 10 percent, who earn $60,760. NBA strength coaches' salaries would be in the highest 10 percent.
A Closer Look
Job Monkey, a career website, lists the salary for professional strength and conditioning coaches at between $60,000 and $80,000 as of 2011. Professional coaches can be certified by the National Strength and Conditioning Association (NSCA). Certification requires passing an exam administered by an independent, NSCA-sanctioned agency.
Comparisons
NBA strength coaches report an annual salary of more than $80,000, according to "Assessing Differences In Strength and Conditioning Coach Self Perceptions" by Mar Magnusen of Texas Christian University. Magnusen notes the higher salaries of NBA strength coaches compared to college basketball strength coaches, though no figures were given.