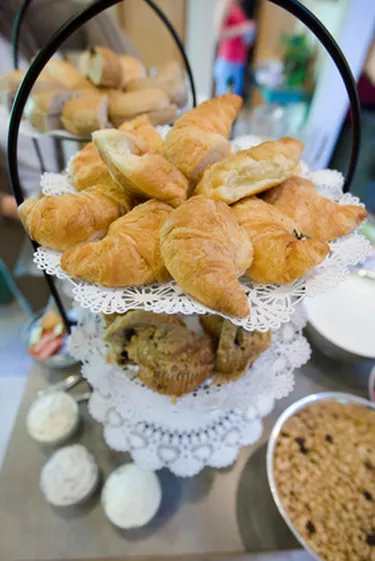 The food service industry is one of the largest in the United States, and catering is a very popular and sometimes lucrative career. Many culinary specialists or waiters and waitresses prefer catering to working in or owning a restaurant, and some restaurant owners expand their services to include catering. There are many positions available in a catering operation and of course salaries depend on several factors.
Qualifications
Technically there are no defined qualifications needed to work in the catering industry. However, those without culinary training, talent, or experience are often limited to positions only as dishwashers or servers. A talented chef may be able to be at the heart of a successful catering business, but often some credentials are necessary. This may include culinary school, previous chef experience or an apprenticeship. Waiters and waitresses typically have to be high school graduates and in some cases have to hold a food handler's license. In the case of serving alcohol, liquor licenses may be required as well as meeting each state's minimum-age requirement for servers.
Location
The salary of a catering staff member can greatly change depending on location. A catering business centralized in a wealthy area will almost definitely pay higher wages. Cost of living can also have a large influence on salary. In the state of Illinois, the average catering employee salary is just $39,732 a year. In New York, a city with not only a higher cost of living but also a reputation for great food, the average salary jumps up almost $10,000 to $46,046, and even higher in New Jersey at $51,492.
Position
Most likely the biggest factor to consider when determining salaries for catering staff is the level of the position. Servers and dishwashers are usually paid on an hourly basis and are often called in as freelancers. Catering companies pay these positions the state's minimum wage, as they are not based on gratuity and do not receive tips. A sous chef however will likely be on salary and make an average of $35,777 a year. An executive chef in the catering industry in the United States makes an average of $55,187 annually. There are also catering staff members who do not handle food such as an event coordinator, who will average $33,887, or a catering sales manager, who may pull in $38,925 a year. The national average pay range for all catering staff is between $33,686 and $48,157.
Type of Employer or Catering Operation
Catering is commonly considered a commodity and therefore is subject to a wide range of service fees depending on how much a client wishes to spend. A large company tailored to a majority of Americans, such as Holiday Inn, pays its managers in Frisco, Colorado, an average salary of $43,000 a year. For another hotel aimed at a higher-income clientele, such as the Ritz-Carlton Hotel Company in New York, the catering manager will receive $65,000 annually.