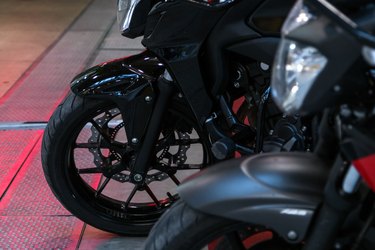 It's been more than 50 years since the first motorcycle superbike, the Honda CB750, rolled off the production line in 1969. The first superbike race was held a year later. Much has stayed the same in the years since; superbikes still must be certified road-legal bikes that can, in theory, be purchased by the public and optimized for racing. After hitting mainstream racing in 1988 with the first World Superbike Championship, company sponsorships and increasing winners' purses have turned the best superbike racers into multimillionaires.
World Superbike Racer Salaries
Superbike racers who consistently place in the top spots are offered sponsorships by manufacturers with base salaries, often ​$1 million or more​, that allow them to focus on competing instead of worrying whether they'll be able to live on whatever winnings they may accrue. They also receive endorsement offers to place logos on their bikes, appear in ads or promote products in other ways. Of course, if they stop winning or can't race due to injury, eventually their sponsorship salaries and endorsements will stop.
The 2020 MotoAmerica Superbike Championship doled out ​$3,652,000​ for top finishers and other prizes. Add to that the prize money offered by gear, parts, fluid and other manufacturers, plus bonuses racers may receive from their sponsors for placing in the top 20. First-place racers earn significantly more than the rest of the racers; second and third place still earn several thousand dollars; but each successive placement, from third to 20th place, earns less than the place before it.
For example, with five world championship wins under his belt as of 2020, Kawasaki extended Jonathan Rea's contract through 2022, including a salary of ​$1.5 million EUR, or nearly $1.8 million USD​, per season. As of July 2021, superbike racer Jake Gagne had won seven successive races, adding first place purse money to his earnings from two June races and, certainly, bonuses from his team, Fresh N' Lean Attack Performance Yamaha.
Richest Motorcycle Racers
People often ask, "How much do motorcycle racers make?" Salaries and annual earnings are not readily available for every motorcycle racer in every class, not even for those at the top. One way to judge earnings, though, is to compare net worth, which is based on salaries, purse money and bonuses through the years as well as how their investments fared vs. how much they spent. A few examples of estimated net worth:
Valentino Rossi – ​$160 million​

Carl "Foggy" Fogarty – ​$45 million​
Jorge Lorenzo – ​$20 million​
Skills and Experience Required
Superbike racers, and motorcycle racers in general, do not need a formal education to compete in the sport. While athletes in sports like football, basketball and baseball often become noticed playing in college and are then drafted to pro teams, motorcycle racers follow a different route. They typically start out racing on local tracks and perfect the skills they need as they climb and gradually enter higher-profile races with greater purses.
Racers learn the nuances of the sport, such as the skill of riding very fast without crashing or making maneuvers that could disqualify them, what to do and not do when another rider is approaching to pass and more. They may have mentors, but much of their education and skills are learned by trial and error. The best racers are recruited to teams often run by motorcycle manufacturers like Yamaha and Kawasaki, where they are typically given two of the same bikes: one for practice and another that is precisely tuned for competitions.