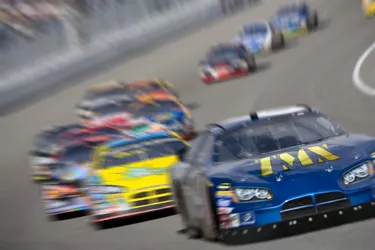 NASCAR races are exciting to watch, so you can only imagine what it's like to drive in one. It might leave you wondering, how much do NASCAR employees make, especially drivers? In addition to getting paid to drive, NASCAR drivers make money in other ways, including payouts and endorsements.
How Much Do NASCAR Employees Make?
It's challenging to determine the average salary of NASCAR drivers because much of that information is not public. It's also complicated because many drivers are considered independent contractors, so their income is handled differently. Some reports say that NASCAR driver salaries range from as low as about ​$22,000​ to as much as ​$577,000​.
NASCAR is a large company worth over ​$100 million​. More than ​1,800 people​ work for the company, and their salaries range widely depending on position, experience, education and more. The president and CEO of NASCAR is worth more than any NASCAR driver, past or present. As of 2022, the current NASCAR CEO and president is Mike Helton.
NASCAR drivers are considered professional athletes. However, as in any professional sport, a few very well-paid stars are at the top, and many more aspiring athletes do not earn as much money. It is also essential to remember that drivers do not keep the entire purse when they win a race. They must pay their employees, and the car owners and sponsors are also entitled to some of the payouts.
NASCAR Prize Money Per Race
One of the most significant ways that NASCAR drivers make money is prizes from races won. According to the writers at The Sporting News, it is rumored that the 2022 purse for the Daytona 500, the league's most prominent race, is ​$23.6 million​. The NASCAR Xfinity Series payout in 2021 was about ​$7.8 million​. Drivers must qualify to compete in high-stakes races like the Daytona 500 or the NASCAR Xfinity Series. They do so primarily by winning or placing in lower-stakes races and working their way up, and more victories mean more attention from better sponsors and endorsements.
In 2021, the highest-paid NASCAR driver was Kyle Busch. According to Essentially Sports, Kyle Busch's salary was ​$17.8 million​, including all winnings and endorsements. His net worth is approximately ​$80 million​. He has more than 200 overall career wins, 56 of them being NASCAR Cup wins. Denny Hamlin is right behind Kyle Busch, per the team at Essentially Sports, and he made ​$14.5 million​ in 2021 and has a net worth of ​$45 million​. According to ​Forbes​ magazine, the highest-paid NASCAR driver of all time is Dale Earnhardt Jr., who was paid ​$25.9 million​ in 2012.
How to Become a NASCAR Driver
The path one needs to take in order to become a NASCAR driver is not easy. As the writers at Motorsport.com explain, first and foremost, drivers need to have a certain level of talent. If they meet that skill threshold, they can apply to enter a racing school, such as that run by the Sports Car Club of America. That organization licenses drivers to compete in much the same way as medical boards license doctors.
The most successful drivers also have intricate knowledge of cars, especially sports and race cars. These drivers will also need to have some mechanical inclinations and knowledge about how engines work. Many of these prospective drivers study at the NASCAR Technical Institute. There are no other formal qualifications for becoming a NASCAR driver, but it is incredibly competitive. To be successful in your goal of becoming a NASCAR driver, you'll need either solid connections in the field or seriously good luck.