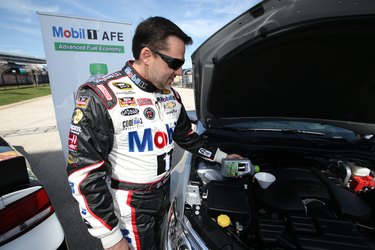 The National Association for Stock Car Auto Racing, or NASCAR, is a major sports organization coordinating live racing events that routinely draw thousands of people to the stadium and millions of viewers each weekend during the season. Surprisingly, for all the attention NASCAR races earn, NASCAR automobile drivers make far less than their counterparts in other competitive sports. A NASCAR driver's salary is largely made up of a base salary supplemented by bonuses for top finishes. Experienced drivers can also find additional ways of earning money, including endorsement deals.
Salary
Salary information for NASCAR drivers is difficult to obtain because much of it isn't public. Drivers are treated more like independent contractors than the union employees found in team sports, and so much of the salary information remains private. In 2007, breach of contract lawsuits brought by Sterling Marlin and Joe Nemechek against their respective team owners revealed that both drivers, considered to be middle-of-the-pack earners, made $1.2 million that year. Drivers keep anywhere from 40 to 45 percent of the prize money that they win for their team throughout the year. This money is typically considered to be part of the driver's overall salary and can greatly increase annual earnings.
Award Money
Because of various award programs available to veteran drivers with good records, a higher finish does not necessarily indicate that a driver will earn more money. The top Sprint Cup point winners from each season are eligible for the next year's Winner's Circle Program, which pays out $130,000 each race to between 10 and 12 drivers. Other award programs include the Gatorade Front Runner Award, which gives $10,000 to the driver leading the most laps regardless of finish, and television awards, purse winnings which decrease based on finish, similar to golf and other tournament-style sports.
Merchandise and Sponsorships
Royalties earned from sales of merchandise and personal endorsement sponsorships greatly supplement a driver's salary. In 2013, Dale Earnhardt, Jr. made over $12 million in endorsements compared to less than half that in salary and winnings. He has made even more in previous years, as much as $28 million. According to "Forbes," endorsement deals overall have been reduced greatly.
Other Athletes
Compared to other sports, the salaries of NASCAR drivers are disproportionate to the amount of money tied up in the NASCAR industry. Golf and tennis players can routinely earn more than $1 million for finishing first in their tournament, but drivers finishing first in NASCAR races routinely make less than $1 million for that race, unless the race is a major event such as the Daytona 500.