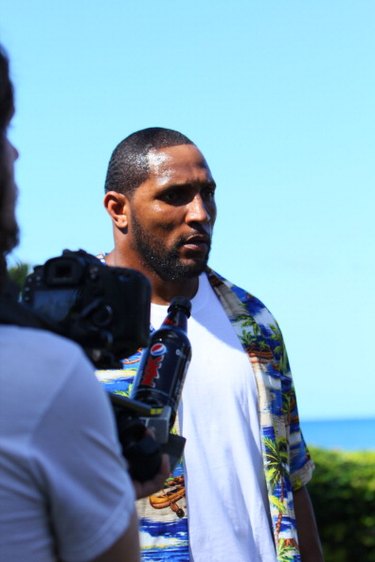 A middle linebacker is the "quarterback" of the defense and helps the football team's defensive line prepare for various offenses by the opponent. A typical formation includes three to five linebackers and they are labeled by location – strongside, weakside and middle – but many linebackers can play in different locations. A middle linebacker in the NFL is paid according to his contract, and gets a paycheck once every two weeks during the regular football season.
Average Salary
The average salary for an NFL linebacker in 2010 is $1,175,788 annually, according to Sports Illustrated. In addition to a player's salary, he may be eligible for other money, such as a signing bonus or other bonuses that are written into his contract. These bonuses are in addition to the player's annual salary.
Highest Salaries
The highest paid linebacker in the NFL is Ray Lewis of the Baltimore Ravens. Lewis will earn $9.4 million in 2010. The Chicago Bears have one of the most well-known pairs of linebackers in the NFL – Lance Briggs and Brian Urlacher – who will make a combined $13.1 million in 2010, the highest paid duo in the NFL.
Lowest Salaries
Even the lowest paid linebackers in the NFL bring home six-figure salaries. In 2009, K.C. Asiodu of the St. Louis Rams was the lowest paid linebacker in the league and made $310,000, according to USA Today. There were a handful of other linebackers making the same base salary in 2009, but many of those players earned bonuses that year, increasing their overall compensation; Asiodu did not.
Linebacker-friendly Teams
In 2009 the Arizona Cardinals had two of the highest paid linebackers in the NFL, Nos. 1 and 13. The Green Bay Packers and San Diego Chargers also had two linebackers at the top of the salary ranks. The Miami Dolphins and New Orleans Saints also included several of the league's top-paid linebackers.
Franchise Linebackers
The franchise value of an NFL linebacker in 2010 is $8.3 million. According to the NFL, this number is derived from the salaries of the top five players in the position. In 2010 those players were Ray Lewis of the Ravens, Terrell Suggs (Ravens), Karlos Dansby (Dolphins), Keith Bulluck (New York Giants) and Keith Brooking (Dallas Cowboys).