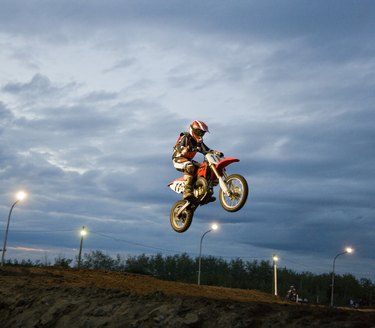 The American Motorcyclist Association, or AMA, was established in 1924 to protect the rights of motorcyclists. It is the largest motorcycle organization in the world. The goal of the AMA is to promote safe and fun motorcycle riding for all individuals, whether it is competitive or recreational. The salaries for AMA motorcycle racers include racing prizes, industry bonus awards and sponsorships.
AMA Racing Prizes
Part of an AMA motorcycle racer's salary comes from the prize money won at each race. There are 17 AMA supercross races in a racing season, and each one pays out a different purse. In 2009, the AMA supercross purse for the 450 class was a $12,000 payout for the winner, and a $550 payout for the rider that finished 30th. The AMA supercross purse for the 250 class was a $2,500 payout for a first-place finish, and $230 for a position 30 finish.
Industry Bonus Award
Another part of an AMA motorcycle racer's salary is money received from industry bonus awards. These awards are given by companies to riders who wear their merchandise. These riders must wear the merchandise during the race and display the name of the company. In 1999, the AMA Bonus Award Listings showed that in the superbike class of racing, the highest industry bonus award for a first-place finish was $7,800. The rider was entitled to this bonus award, along with the winner's purse.
Promotional Sponsorship
A final component to an AMA motorcycle racer's salary is earning money through promotional sponsorships. In order to get these sponsorships, racers have to sell themselves to sponsors. They have to explain to sponsors how they can sell their products, as well as achieve high rankings at races, because sponsors want to show ads stating that racers using their products placed first. In the past, these sponsorships have brought in additional totals of $80,000 a year to racers who use these products.
Job Outlook
Any individual can become an AMA motorcycle racer. There is not a cap on the number of individuals who can race. However, in order to make a living as a racer, an individual has to place high in the rankings. This is hard, because only a few individuals can place in a race. There are numerous professional and non-professional races across the United States each year, involving hundreds of participants. The payouts in these races generally range from $12,000 to $230 per race. An individual placing 30th in each of the 17 AMA races would only make around $3,910 a year.