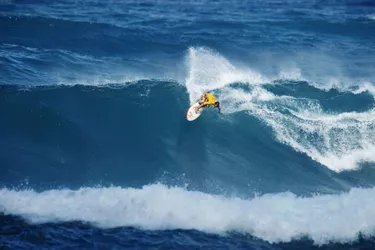 Professional surfers compete for the Association of Surfing Professionals World Title. These pros devote their lives to traveling the world, competing in various sanctioned events and earning points toward the title. It's an expensive lifestyle financed by various sponsors or the surfer's own credit cards. Top surfers earn prize money, which, combined with sponsorship income, can amount to a respectable income. The ASP sets no standards for surfer's earnings, such as the minimums established by the professional organizations for other athletes such as baseball and football players. Each surfer negotiates his own fees with sponsors.
Winnings
Tournament winnings make up the smallest part of a professional surfer's income. For example, the Quicksilver Pro event in Australia in Spring 2011 paid total prize money of $425,000. This was divided among the first- and second-place winners of the quarterfinals, semi-finals and finals. Overall winner Kelly Slater took home an estimated $117,000 from that race, one of 11 races on the 2011 World Tour.
Sponsorships
Sponsorships supply boards and clothing and cash to professional surfers, who in turn sport the sponsor's logo, make public appearances on behalf of the sponsor and become the face of the sponsor to the surfing world. Australian surfing magazine "Stab" reported that pro surfer Joel Parkinson signed a contract with Billabong in 2008 for $1.5 million over five years, while champion Kelly Slater inked a deal with Quicksilver for $2 million over five years. Some sponsorships are contingent on the surfer maintaining a certain ranking in the world title standings.
Products
Pro surfers earn money from products that bear their name as well. "Stab" reported that as of 2008, pro surfer Mick Fanning had earned more than $450,000 from the Reef sandal he helped design. And surfer Mikael Pikon earns money from the surfing underwear he designed. Dane Reynolds gets royalties from a surfboard with his signature on it and other surfers have similar merchandising deals.
Bottom Line
Sponsorships and winnings can earn top surfers a million dollars or more a year. Surfline reporter Nick Carroll estimates surfers on the world tour earn between $250,000 and $400,000 a year. However, they also pay hefty expenses to travel around the world to compete, the cost for equipment and entrance fees and dues. Sponsors supply equipment for some, but others foot their own bills. Surfer Dayyan Neve told "Stab" that he had no sponsor in 2007 and spent $100,000 of his own money paying his way to competitions. He won only $70,000 and ended up in debt before landing another sponsor.