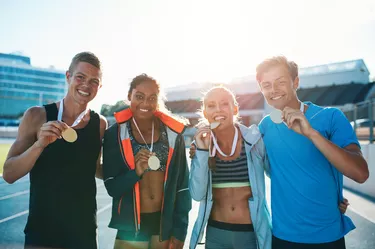 Whether you are a talented track and field athlete or simply curious, you might wonder what pro runners earn. The truth is that the income of distance runners and other elite runners can vary widely. As you might expect, Olympians are the professional runners who make the most yearly. Much of the income professional runners make is from the prize money they can get for races, like the Boston Marathon, and endorsements from shoe companies, like Nike.
If you want to become an elite runner, nothing is more important than natural talent. Some people are born for particular sports, and running is one of them. Even with immense talent, you'll still need an incredible work ethic.
You'll need to spend long hours practicing and training, and you'll also have to be very diligent about caring for your body, including your diet, sleep regimen and more. You may need to work with a coach or a team to help you achieve elite status.
To gain the required recognition, you'll need to distinguish yourself by competing successfully in high school and topping the rankings. Then, you'll need to become a top NCAA runner in college and hope to make the Olympic team at some point in your career.
At that time, you can expect to earn enough from running, including prize money and endorsements, to support yourself and make running an occupation.
When you hear about Olympic gold medal holders, elite athletes and world record holders, like Usain Bolt, you might assume that people in this line of work make a lot of money. However, even in the space of Olympians, many professional runners simply don't make that much.
Most elite runners work and train on their own and find individual events in which to compete. They look for endorsements or sponsorships to fill income gaps. However, there is not much of an industry to speak of for this job. It may require most of an athlete's time, but it is not a full-time job in the traditional sense.
Job Mobility and Career Growth
In 2022, the average income for a full-time professional runner in the United States is estimated to be just under ​$40,000​. That's just below the median individual income in the U.S., so most professional sprinters and long-distance runners don't live lavish lifestyles. Still, some earn additional income in other ways. Generally speaking, the more events in which they compete, the higher their yearly earnings will be.
One of the most crucial ways pro athletes earn money is through endorsements. These are especially crucial for Olympic athletes who aren't paid generous salaries by a team. In fact, Olympic athletes only earn a stipend to help them support themselves while training and competing.
Endorsements and sponsorships are often for products related to an athlete's field. For cross-country runners, this could be running shoes, clothing and accessories. However, major companies selling all kinds of consumer products come knocking for endorsements from celebrity athletes, including runners. Active social media accounts can help prospective professional track runners be more appealing.
Prize money can be critical as well. World championships can have very high purses. For example, an Olympic gold medal carries more than ​$37,000​. Some professional athletes receive appearance fees to promote smaller events, like half marathons.
According to the U.S. Bureau of Labor Statistics, professional athletes and sports competitors earned a median salary of ​$77,300​ in 2021, which is more than many experienced runners make. Still, there is a vast range. The top 10 percent of professional athletes earn at least ​$208,000​ or more, and the bottom 10 percent make less than ​$26,000​ annually.
Finally, it's also worth noting that recent trends have led to the income for elite runners falling in the recent past, as Runner's World explains. Prize money has diminished or has been nonexistent as events as significant as the New York City Marathon were canceled, and other races saw reductions in the number of competitors. However, experts are hopeful that all opportunities will return soon.