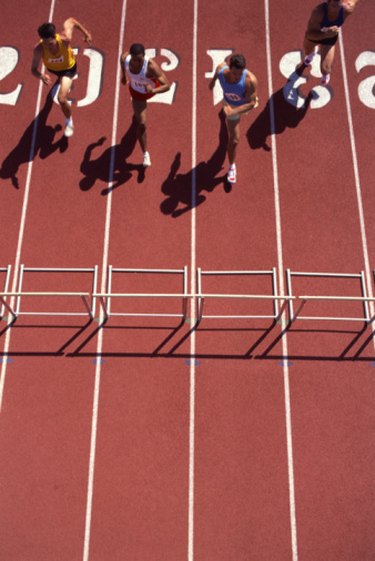 Professional track runners earn their income from a variety of sources, including sponsorship deals, appearance money from race organizers, prize money from races and incentive payments for breaking records. Professional runners also receive indirect compensation in the form of kit and shoes from manufacturers, or travel and accommodation expenses from race organizers.
Average Earnings
The Bureau of Labor Statistics provides salary scales for professional athletes, but not specifically for track runners. According to the Bureau, the average salary for a professional athlete in 2008 was $79,460. The website Simply Hired quotes the average salary of a professional track runner as $71,000. Professional runners are likely to work with agents who negotiate compensation on their behalf and take a percentage of the runner's earnings as a fee.
Sponsorship
Sponsorship is a major source of income for professional track runners. At the bottom end of the scale, runners may simply receive kit or shoes from a sponsor. If they show promise, they may receive cash awards, which grow progressively larger with success. The website Inside Higher Ed reported that one female track runner who qualified for the Olympic Games was only able to secure $10,000 in sponsorship compared to top female runners who were able to command $150,000 to $200,000.
Performance
Track runners can earn additional income by achieving victory in a competition or breaking records. Inside Higher Ed reported that the award for winning the women's long jump at the 2005 IAAF World Championships was $60,000. The Diamond League is a series of track meetings that take place over the summer season. News agency Reuters reported that the promoters' statement of prize money for the 2010 series was $6.6 million, plus more in promotional fees
Road
Runners who compete in long distance events, such as the 5,000 meters or 10,000 meters, have a choice of racing on the track or on the road. Road races, particularly big city marathons, also offer the opportunity of substantial earnings. The New York City Marathon, for example, publishes a full list of prize money for finishing positions. The winners of the men's and women's race in 2011 will each receive $130,000, with the second placers earning $65,000 each and a total prize fund of $800,000.
Appearance
No official figures are available for appearance money that promoters pay to attract top runners to their races. The bulk of this unofficial source of income goes to top-performing runners such as Olympic or World Championship medalists or world record holders.