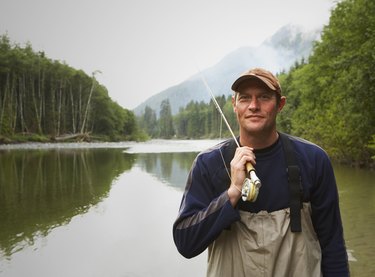 Millions of people across the country can't wait to get on the water and reel in fish during their free time. Fishing is one of the most popular recreational pastimes in the U.S., and some people are even lucky enough to make money doing it. Professional tournament fishing has grown in popularity since the late 20th century, and prize money has grown accordingly. Although the earnings vary greatly from one professional tournament fisherman to another, a number of these professionals make a comfortable living.
Fishing Tournament Purses
Fishing tournaments are hosted all around the world with large and small prizes alike. Most tournaments feature modest prize money if there's a purse at all. The location, type of fish, size of the field and tournament sponsors all determine the prize money of any given tournament. Prize money generally consists of sponsorship and applicant fees and is divided among the top-performing anglers. The U.S. bass tournaments are the most well-organized and high-profile professional tournaments and pay out the largest totals of prize money.
Bassmaster Tournaments
The B.A.S.S. Bassmaster series is the highest paying professional tournament series. The schedule consists of 31 tournaments of varying degrees of competition across the U.S. between the months of February and November. In 2011 the largest single B.A.S.S. tournament prize went to seven-time Bassmaster champion Kevin VanDamm, who won $500,000 in the Bassmaster Classic --the largest prize ever for the tournament. Typical Bassmaster tournaments at the highest level of competition (Elite) pay around $100,000 for a first-place finish, $25,000 for second place, $20,000 for third place, with prize money diminishing for lower placing fisherman thereafter.
Bassmaster Career Earnings
Tournament fishing pays out millions of dollars each year, and some of the very best professional tournament fishermen have become millionaires over the course of their careers. Kevin VanDamm, the most successful fisherman in the history of Bassmaster tournaments, heads the career earnings list for a tournament fisherman. In his more than two decades of fishing he has compiled a total of $5.285 million in Bassmaster event earnings. Skeet Reese and Rick Clunn also appear on the career millionaire list, with $2.51 million and $2.071 million in career earnings, respectively.
Endorsements
Most of the top 150 professional tournament fishermen on the Bassmaster circuit earn $10,000 to $20,000 per year in prize money. Endorsement and sponsorship money supplement the fishermen's annual income. Typical sponsorship may include free equipment or a payment of several thousand dollars to use a sponsor's product. The top fishermen, like VanDamm and Reese, may earn several hundred thousand dollars or more per year endorsing products from well-known brands such as Bass Pro Shops, Busch, Kodak and Plano.