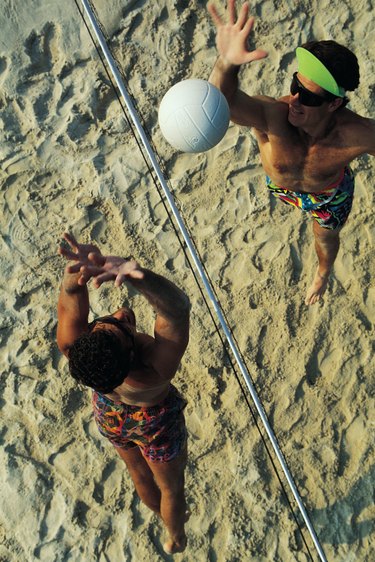 Though they may not receive the fame and notoriety that professional football, basketball and baseball players enjoy, professional volleyball players make a solid living and get an opportunity to play all over the world. For those who are privileged to win matches, paydays can be huge, and can lead to endorsement deals with major companies and brands.
Average Salary
Both indoor and outdoor volleyball is attended by an audience, and is considered a spectator sport. The Bureau of Labor Statistics lists the average salary of athletes in spectator sports at $104,470 annually as of 2010. In the United States, the majority of income earned by volleyball players is earned by winning. In contrast, those who play in Europe are paid a salary each month.
A Closer Look
Since salaries for professional volleyball players in the U.S. are determined by "purse," or total prize money, players must win matches to earn their income. Chair prices for beach volleyball matches can range from $25 to $120 with several hundred spectators attending. Former top professional volleyball player Gabrielle Reece earned $23,400 for her first year on the tour.
The Structure
In the U.S., outside of winning, professional volleyball players also earn their salaries by placing in tournaments, receiving secondary and tertiary prize money. In Europe, players may receive professional contracts where salaries range from a few hundred dollars per month to as much as $10,000 per month. Additionally, players in Europe may receive a car for transportation, an apartment and language tutors.
Top Dollars
Players on the AV Pro Tour can earn as much as $1 million in prize money. In fact, four women have won this prize in the tour's history, including Kerri Walsh, who also has endorsement deals with Gatorade, McDonald's and Sirius Satellite Radio. In 2010, professional volleyball's top earners were Philip Dalhausser and Todd Rogers, who each earned $387,700, according to an April 2011 article for ESPN.