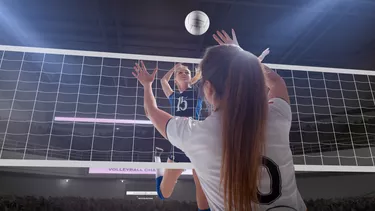 Professional volleyball players are responsible for entertaining fans with their athleticism and skills on the court. They have to maintain a high level of fitness and practice regularly to stay at the top of their game. The salaries of professional volleyball players vary widely depending on a player's profile and success. The best players in the world can earn millions of dollars per year in salary and endorsements, but the average salary is closer to ​$65,000​.
Professional Volleyball Player Job Description
A professional volleyball player competes in tournaments and events at the national and international level, and may specialize in indoor, outdoor or beach volleyball. When not competing, they work hard on their stamina, strength and agility, as well as their specific skills such as serving and spiking. It takes effort to be successful. Young American athletes are often scouted to programs like the USA Volleyball National Team Development Program, which aims to build a pipeline of future Olympic talent.
Professional Volleyball Player Education Requirements
There is no one specific route to becoming a professional volleyball player. Some players start young and develop their skills through high school development or college programs, while others take a more unconventional path. More important is the ability to play at an elite level, and to do so under pressure. Pro volleyball players need to have good strategic awareness and tactical understanding so that they can make the right decisions on the court. They also need to be able to think quickly and make split-second decisions.
Volleyball is a physically and mentally demanding sport that requires years of hard work and dedication to master. Players who want to play at the highest levels must be willing to make sacrifices, including giving up their social lives and spending many hours on the court and in the gym.
Industry and Work Environment
Most pro volleyball players compete as part of volleyball teams in domestic and international tournaments in one of many different volleyball leagues. In the U.S., the Professional Volleyball League is the premier league for men's volleyball. There are also regional men's leagues, such as the Midwest Intercollegiate Volleyball Association and the East Coast Volleyball Conference. For women's volleyball, the biggest league is the National Volleyball Association. There are also a number of collegiate women's leagues, such as the Big Ten Conference and the Pac-12 Conference.
International volleyball leagues include the FIVB World League and the CEV Champions League. These leagues typically operate on a club system, with teams from all over the world competing against each other. The top teams from each league typically advance to a postseason tournament, such as the FIVB World Championships.
The work environment is often intense and competitive, with players striving to win championships against the best players in the world. Pro volleyball players should be prepared to move internationally and continue their careers in countries like Italy, Brazil, Poland or Russia where the sport is popular.
Professional Volleyball Player Salary Ranges
Most professional volleyball players earn a salary that is determined by their team and their league. In general, the higher the level of competition, the higher the prize money and the salary will be. The average salary was ​$64,168​ in July 2022, reports the salary website Comparably. This is less than the average base salary for all professional sports players, which was ​$77,300​ in May 2021m according to the Bureau of Labor Statistics.
The highest-paid volleyball players in domestic leagues make an annual salary of ​$187,200.​
The best players in the world make big money. Although she hasn't competed for some time, Gabrielle Reece still ranks as the top-paid female volleyball player of all-time, reports Worthly. Her earnings of around ​$10 million​ mainly come from lucrative modeling contracts and sponsorship deals. Kerri Walsh is second in the list of female top earners, earning ​$4 million​ throughout her Olympic-level career.
Professional Volleyball Player Job Growth Trend
While the Bureau of Labor Statistics does not keep data specifically on professional volleyball players or beach volleyball players, they do track job growth for professional athletes and sports competitors in general. The outlook for this occupation is extremely good, with an expected job growth rate of 38 percent between 2020 and 2030. This is much higher than the average expected job growth rate for all occupations during that time period.