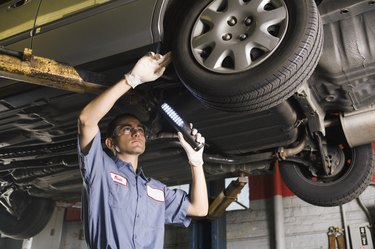 The Automotive Safety Enforcement Division of the Maryland State Police monitors Maryland vehicle inspection stations. This division sets the standards for vehicle safety inspection and processes the applications for individuals wanting to become Maryland automobile safety inspectors.
Step 1
Study the Code of Maryland Regulations dealing with vehicle inspections, specifically Title 11, Subtitle 14. The regulations are available online and at all licensed inspection stations. You can also purchase them from the Division of State Documents by calling 1-410-974-2486 or 1-800-633-9657.
Step 2
Prepare a money order or business check for the 2011 examination fee of $15. Make the check out to the "Maryland State Police." Cash and personal checks are not accepted. Bring the check with you when you take the written examination.
Step 3
Take and pass the written examination that is offered at 9:00 a.m., every third Friday of the month. Exam locations are at the Ferndale Volunteer Fire Station in the Glen Burnie area, Joppa/Magnolia Volunteer Fire Station #1 in the Bel Air area on MD 152 at I-95, or at the Easton, Beltsville, Hagerstown or Largo branches of the motor vehicle office. You will be required to show your driver's license as identification.
Step 4
After passing the exam, obtain employment at a licensed Maryland vehicle inspection station.