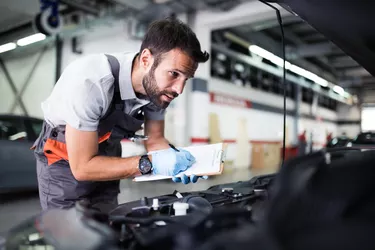 Most used vehicles in Maryland must undergo a Vehicle Safety Inspection performed by a licensed vehicle inspector at an official vehicle inspection station. More commonly referred to as inspection mechanics, individuals can become licensed inspection mechanics provided they meet the qualifications and undergo the application and examination process.
What Is a Vehicle Inspection?
Maryland law requires that most used vehicles undergo a safety inspection before being sold or transferred. According to the experts in the Maryland government, the seller or transferer is typically required to obtain an inspection certification. However, the purchaser or transferee can obtain the inspection certification in the case of class E trucks, class F truck tractors, class G freight trailers, semi-trailers and dump service semi-trailers.
Drivers can obtain a Maryland state vehicle inspection certification from a licensed safety inspection station in Maryland. According to the Maryland government's site, there are around ​1,600 licensed facilities​ throughout the state. Each station is authorized for certain types of vehicles, such as Class A, B, C, M, T and R. It's imperative to verify which vehicle classes a station services before arriving for an inspection. You can find a station finder using the resources provided by the writers at the Department of Maryland State Police. Before an inspection, ensure that the vehicle is correctly registered in Maryland or another state.
Maryland Vehicle Inspector Requirements
Before undergoing the licensing process to become a vehicle inspector in Maryland, the writers at the Maryland Department of Motor Vehicles (DMV) urge all applicants to thoroughly review the personnel requirements in the Code of Maryland Regulations. According to the Code of Maryland Regulations, all full-time registered inspection mechanics must be at least 18 years old. However, a 17-year-old mechanic is still eligible provided they have passed and received a completion certificate from an automotive mechanics course from an accredited Maryland high school or equivalent.
Applicants must also have at least ​12 months​ of general motor vehicle repair experience before applying for a vehicle inspector position. They must possess a valid driver's license in the class of vehicle to be driven during the inspection. Vehicle inspector applicants must also be capable of road testing vehicles as part of the inspection procedures. They must also have received a passing grade on the administrative portion of the exam and all other exam portions applying to the vehicle class on which the applicant will inspect.
How to Become a Licensed Inspection Mechanic
To become a licensed Maryland state inspector, applicants must apply online by submitting all required applications, documents and registration fees. Applicants must also register for all applicable station mechanic exams. Registration for these exams is done online; however, the exams are not. The Station Mechanic Exams are a series of exams focused on admin, and the classes are A, B, C, M, R and T. Applicants can register for up to three exams at once online, and they must receive at least an 80 on the admin test and other class sections to be eligible for licensure.
Class A vehicles refer to passenger vehicles, autocycles, limousines, multipurpose passenger vehicles, recreational motor homes and trucks 10,000 pounds and under GVWR. Trailers not equipped with air brakes are also considered Class A. Class B vehicles refer to any trailer, including those with air brakes. Class C vehicles include trucks, truck tractors, buses, recreational motor homes, converted buses and limousines over 10,000 pounds GVWR.
Class M vehicles include motorcycles, 3-wheeled motorcycles and trailers that are not equipped with air brakes. Class T vehicles include any trailer with air brakes, and lastly, Class R vehicles include recreational motor homes and converted buses.