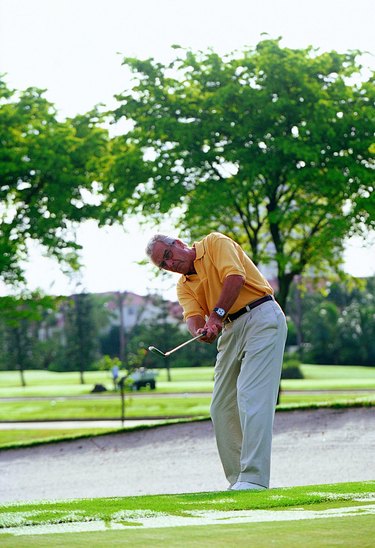 By general rule, amateur status means unpaid. Thus, amateur golfers play for the experience, to build their resumes and to get the opportunity to play professional golf where they do receive pay. While amateurs do not earn salaries from tournaments, in some rare cases they may be paid. Still, their earnings are far from comparable to those of professional golfers.
Average Salary
Professional golfers earn their salary largely through the PGA Tour. As such, a 2010 article for ESPN lists the average salary of the top 250 golfers on the tour at $1.1 million. In comparison, the United States Golf Association strictly prohibits amateurs from accepting any prize money. Thus, amateur golfers are very much in strict adherence to the definition of amateur status earning no salaries.
The Amateur Golfer
The USGA governs the rules and regulations for amateur golfers, which includes golfer expenses. Amateur golfers may pay fees ranging from $10 yearly for basic membership, which includes preference in receiving US Open tickets and discounts on USGA merchandise to as much as $2,300, which includes complimentary tickets to the US Open. Amateur golfers must frequently pay fees to play in tournaments, offsetting any potential earnings. However, the association does allow amateurs to be reimbursed for individual competition expenses. These may include transportation, travel, lodging, practice range fees, cart fees, caddie fees and meals. Expenses must be approved by the golfer's state or regional golf association.
A Closer Look
To begin earning a salary, amateur golfers often attempt to qualify for professional tournaments such as the Champions Tour. In fact, at age 50, the top amateur golfers can apply for PGA Tour eligibility according to an article for What's Next titled, "A Second Chance." One such example is former amateur golfer Mike Goodes who earned $53,000 in prize money from pro tournaments in 2007.
Possible Income
The USGA permits amateur golfers to be paid a salary for instruction on a case-by-case basis and only with approval. Typically, when sufficient instruction from a PGA or LPGA golfer is not available, the association allows its amateur golfers to receive compensation for instruction. However, the USGA states that this is extremely rare.