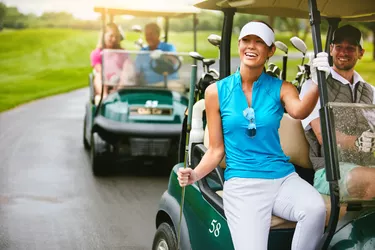 Just like other professional golfers, Tiger Woods started out as an amateur. He didn't turn pro until 1996, at just 20 years old. Of course, he was comparatively young to be going on professional golf tours, and he is widely recognized as one of the best golfers in history. If you have similar aspirations, you can also start out young, playing for your school. A great deal of practice, talent and devotion to the game is needed for any chance of making it big.
Amateur Golfer Description
Amateur golfers have to be in good physical shape, and this is achieved through exercise and eating right. It is hard to play a good game if you were up late or don't eat properly, so having self-control and a good workout regimen is important. Amateur golf and the pros beyond are highly competitive fields, and there are countless numbers of people who want to turn pro and earn a sky-high professional golfer salary.
These rookie golfers do not play for money and cannot accept any compensation for teaching golf, either. They can enter and play in tournaments and competitions that could possibly lead to playing in a professional competition, though. Amateur players can also apply for assistant professional player positions. It can be hard for amateur players to make ends meet, and many take on other jobs to pay the bills.
Amateur Golfer Education Requirements
To become a pro golfer, the team from Golfweek recommends consistent practice and joining high school and college golf teams. You do not need a formal college education, but if you want to play on a college team, you have to pay your tuition (or make use of an offered scholarship) and attend classes. During that time and afterward, you can play in local, regional and national tournaments that are for amateurs only. You get to play on the best golf courses but again, you will not be earning much money.
The United States Golf Association (USGA), offers an amateur golfer status that allows players to enter into amateur competitions. Although there may be prize money involved, these players focus more on achievements and rewards rather than monetary benefits. Amateur golfers who want to play for cash prizes have to submit an entry as an amateur golfer or waive their rights to any prize money awarded. You can apply for amateur status on their website.
Though amateur golfer status does not pay, it can earn you respect that can fuel your career. You can move on from there to participate in a PGA Tour Qualifying Tournament, or "Q-School." These have different, difficult stages and help establish which players are good enough for the next level of competition. It can be a stepping stone to the competitive PGA tour.
Amateur and Professional Golfer Salary
If you earn amateur golfer status and do well in your tournaments and competitions, you could very well go on to make it in the PGA. This is the big time, with famous golf tournament names like The Masters, the U.S. Open Championship and the PGA Championship. The Master is the first of the season and is played every April.
Professional golfers belong to the PGA Tour, a worldwide organization for touring professional golfers. It sanctions tournaments like the PGA TOUR and PGA TOUR Champions. They posted their 2019 to 2020 PGA winners, including top winners Collin Morikawa and Justin Thomas. PGA Tour also shares a PGA Tour money list. At last look, Max Homa and Sam Burns were tied for the lead, with ​$1,260,000​ each so far.