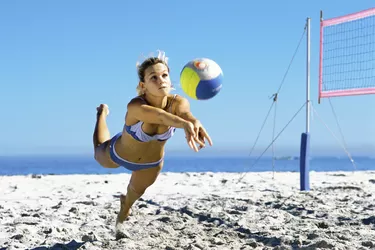 Beach volleyball was popularized in Southern California in the 1920s and, in 1996, was recognized officially as a sport by the International Olympic Committee. As is the case with other tournament athletes, such as golfers and tennis players, beach volleyball players are not employed by an organization, nor do they earn regular salaries. According to SportBlurb, the reported volleyball players' salary range is from ​$19,910​ to ​$187,200​.
Beach Volleyball Player Description
Beach volleyball is played by two competing teams, each with two players. Players must learn and follow the rules, which are similar to those of indoor volleyball. Physical stamina is essential, especially since running and jumping in the sand is much harder than the same movements on an indoor court. Because players spend so much time outdoors, they must wear proper clothing and sun protection at all times.
Beach Volleyball Player Education Requirements
Although there are no formal education requirements for professional volleyball athletes, many successful pro players pursue a college degree because it gives them opportunities to compete at a high level. According to Scholarship Stats, 148 U.S. schools sponsored varsity beach volleyball. Some even offer scholarships to top players. An interactive map on the website links to more information on each school.
Next College Student Athlete explains that recruiting starts early – as early as sophomore year of high school for Division I college sports programs. Because there aren't as many scholarship opportunities for athletes in the sport, coaches are eager to get top players to commit. Coaches are looking to sign players who are year-round beach volleyball athletes, so for Division I schools, players from California, Florida and coastal Texas have a distinct advantage.
Professional Beach Volleyball
The Association of Volleyball Players (AVP) is the premier organization for indoor and beach volleyball. Membership is open to all, from young players getting started in the game to professional volleyball athletes. The AVP organizes events, secures sponsorship and has its own line of merchandise, some of it available exclusively to members. You can register for tournaments on the website. You can also register to be a volunteer at an event, which can be a good way to learn more about the sport while meeting players and coaches.
In an interview with professional beach volleyball players by USA Volleyball, aspiring pros were advised to get as much experience as possible, no matter how small the tournament. The players interviewed also emphasized the need to be self-motivated and organized, particularly after leaving the collegiate world, where important details such as scheduling and travel arrangements are handled for you. You also have to handle your own finances, from tournament entrance fees to personal expenses.
In addition to physical fitness, mental toughness is also required of those who want to be successful as professional beach volleyball players. With volleyball matches, as with any competitive sport, it's always a lot more fun to win. Losses are inevitable, the pros warn, and it's important to learn from mistakes and then move on.
Kerri Walsh Jennings played beach volleyball at Stanford University and first competed in the Olympics in 2000. She won medals in the 2004, 2008, 2012 and 2016 games, and she is also a world champion. Lifetime earnings are estimated at more than ​$2.6​ ​million​, according to Beach Volleyball Info. Her extraordinary success cannot currently be matched by anyone else playing the game. Years of experience can help you become a better player, but it takes hard work and considerable skill to earn a full-time living as a beach volleyball pro.
As with any professional sport, it takes talent and discipline to make it as a professional volleyball player. As long as there are beach clubs, collegiate programs and Olympic competitions, there will be opportunities for players to hone their skills. Because the sport does not have the same popularity as many other college-level and professional sports, opportunities will continue to be relatively limited.