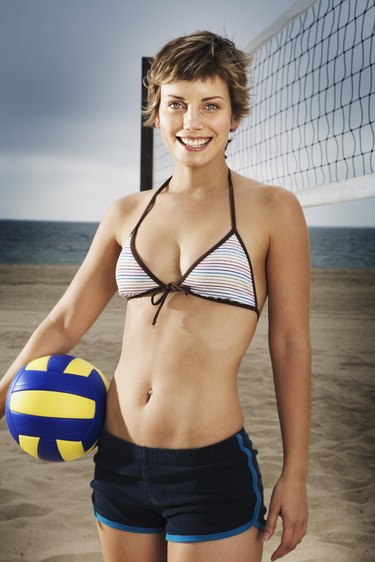 Pro beach volleyball players are not officially employed and do not earn a regular salary. The money they make comes from tournament wins, sponsorships and endorsement deals. For those who qualify for the Olympics, a stipend is available to help with travel and living expenses. Income from a combination of these sources can be substantial, as evidenced by TeamUSA beach volleyball player Kerri Walsh-Jennings.
Top Winners
In 2006, Walsh-Jennings was the fourth American woman to earn more than $1 million in sports earnings. According to the Beach Volleyball Database, her winnings amount to almost $2 million during the seven years since she began playing. She follows three-time Olympian Holly McPeak, whose earnings reached $1 million in 2002. McPeak retired in 2009, but Walsh-Jennings continues to play. In April 2011, "ESPN The Magazine" listed beach volleyball team Philip Dalhausser and Todd Rogers third on its list of the best-paid athletes in 30 sports, with 2010 prize money totaling $387,700.
Sponsorships
Official sponsors of beach volleyball in the U.S. include Crocs and Jose Cuervo, which has been sponsoring the sport since 1978. The company launched the new Jose Cuervo Pro Beach Volleyball Series in July 2011, which is the richest in the country with a cumulative prize purse of $500,000 spread over three events. Winning teams will be well-paid for the year, and may receive additional sponsorship opportunities.
Stipends
Beach volleyball debuted at the Atlanta Olympics in 1996, where every session was played in front of packed stadiums. Since then, athletes chosen to compete in the Olympics receive the stipend available to players of a wide range of sports, which covers the cost of living expenses and travel. Amounts are needs-based and range from $500 to $20,000 for all athletes.
Spectator Sports
The Bureau of Labor Statistics includes beach volleyball in the category of athletes and sports competitors, particularly spectator sports. As of May 2010, the BLS estimates that 8,690 individuals in the industry earned a median wage of slightly more than $100,000 per year in this field. Florida had the highest number of participants in these sports with 2,150, while California was the highest-paying state with median annual earnings of $167,360.