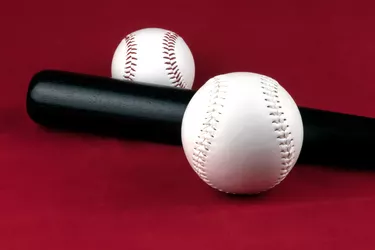 Many slow-pitch softball athletes dream of one day playing for one of the men's professional softball teams. Whether you've been playing on a local team or are in the process of looking for one, the key to going pro is to practice and hone your skills. Pro men's softball players, especially those on Major League softball teams or slow-pitch teams, work hard like any other athletes.
What Is Slow-Pitch Softball?
Those who are unfamiliar with sIow-pitch softball may imagine the identifiable fast windmill pitching that sets the sport apart from baseball's overhand pitch when they think of softball; however, there are two types of softball, and only fastpitch softball uses the fast windmill pitching style.
The difference between the two types of softball boils down to pitching style. Instead of the windmill-style pitch, slow-pitch softball employs a pitching style called the half-windmill, which is thrown with an arc of six to 12 feet. This differs from the fastpitch softball's windmill, which is thrown at 60 miles per hour in a straight line, SPC Sports writes.
Rules of Slow-Pitch Softball
Because of the different pitching styles, slow-pitch softball has different rules regarding how the game is played and the athletes' protective gear. According to SPC Sports, slow-pitch softball is played in seven innings with 10 players in the field using the 10th player as an extra or a fourth outfielder.
The pitching distance is 50 feet from home plate and, since the pitch is slower than that of fastpitch softball, the catcher isn't required to be fully geared to protect themselves. In fact, they are only required to wear a mask.
Slow-pitch softball also has different bat requirements. Instead of the required 26 to 34 inches bat length for fastpitch softball, slow-pitch requires only a 34-inch bat. The barrel must be 2.25 inches in diameter and weigh between 26 to 30 ounces. The bat can be made from aluminum alloy, composite materials or wood.
Men's Professional Slow-Pitch Softball Teams
There are two leagues in men's professional slow-pitch softball: USSSA Slow Pitch and USA Softball (formerly the Amateur Softball Association (ASA)), which is part of the U.S.'s Olympic team. In 1978, USA Softball was named the National Governing Body of Softball (NGB) for the United States by the United States Olympic Committee, Team USA writes.
According to Team USA, there are currently 120,000 softball teams made up of over 2 million players registered with USA Softball.
There are 24 men's professional slow-pitch softball teams under the USSSA Slow Pitch League. According to USSSA Slow Pitch, the following teams ranked as the top five in the league in 2021 are Prodigy, Williams Investments, The Kids, Got the Runs/Berlin and The Crew.
Become a Professional Slow-Pitch Softball Player
To begin one's journey to go pro, athletes should hone their skills and learn the game's intricacies by joining an amateur local team. Whether through a local rec center or registered as an amateur team with the USSSA Slow Pitch League or USA Softball, players should work hard to improve their skills and learn to play on a team.
As your skills develop, move up through the local team to play more advanced levels. You can gauge a team's level by their championships, such as regional, state and national competitions.
Once your skills are strong enough, players can seek out professional men's softball tryouts. While some teams may have open tryouts, others may only allow access through scouts.