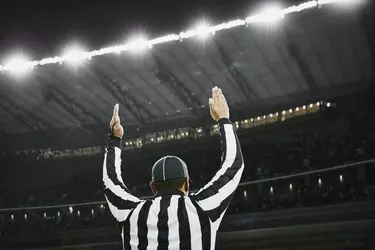 Many young athletes dream of a career in sports, but very few get to be professional athletes. Instead, they can explore careers as umpires or referees in MLB, in the NBA, in the National Football League, in college or in other sports and leagues. Some call games as their full-time job, while others indulge in their hobby with a part-time job.
Most referees who plan to do it as a career focus on one sport. If you want to become an NFL official and perhaps call the Super Bowl one day, you'll want to start by working in high school football, then college football games and then as an NFL ref.
The world of professional refereeing has opened dramatically in recent years with the addition of female referees in several leagues. You have a good chance if you are a female and dream of becoming an umpire. Sarah Allen is the highest-paid female referee in the NFL, while Brad Allen is one of the top-paid male referees.
There are a few ways to become a referee, says the National Association of Sports Officials, but the essential requirement is a passion for sports. Being actively involved in that world from a young age should be a no-brainer, but most professional referees are not former professional athletes. Avoid close associations with any particular teams, as that may be seen as a threat to your ability to be impartial.
If you begin as a part-time employee and end up wanting to make game-calling your full-time job, you should attend college and earn a bachelor's degree. It's best to major in sports management, exercise physiology, health sciences or another related field to help further your career. This may or may not be required depending on the level of experience you have and how impressive your networking skills and other qualifications are.
If you're not athletically inclined yourself, starting as a line judge or other official is something you can do from a very young age. The easiest path to becoming a referee is to attend a training camp or training program; these programs exist for youth and adults.
Just as in the world of sports, there are many ways to work as a game official: minor and major leagues, regular season and postseason games, high school, college football games and other college sports. Most professional referees work outdoors or in stadiums, often in rainy, cold or very hot weather. Some games proceed regardless of the temperature or precipitation.
Some fans can be very passionate about the game they are viewing, so it is important to be able to ignore catcalls and angry words shouted at you from the stands. You'll need to keep cool and retain your composure while ensuring the game is played by the book.
Job Mobility and Career Growth
If you're planning on making this a career, though, you'll want to know referee salary information, including the low end, high end and base salary. The U.S. Bureau of Labor Statistics compiles data about the annual salary for most professions in the country. Umpires, referees and other sports officials earned a median income of ​$35,860​ in 2021. The lowest 10 percent of referee earners made less than ​$19,170,​ while the top 10 percent make more than ​$81,620​. Many referees work part time and therefore make an hourly rate or even a flat rate per game instead of an annual salary.
That's a wide salary range, and several factors play into a referee's salary. For example, mainly because the NFL has a referees' association, the average NFL referee makes about ​$205,000​, or about ​$12,000​ per game. Unlike an NFL referee's salary, MLB umpires are paid in part based on years of experience. The lower-paid umpires make closer to ​$150,000,​ while the more tenured major league umpires make ​$450,000​ or more.
How much does a part-time referee make? Most part-time referees are paid per game. If you ref several games, you can make up to ​$1,000​ per week in New York. High school referees in Southern states, like Texas, take home about ​$100​ per game. Of course, lower-league games pay even less. Those referees often work for a central ref company and earn an hourly rate, typically between ​$15​ and ​$25​ per hour. The pay might also vary if travel is required as well as for playoff games, preseason and more.
Job opportunities for referees are growing quickly. Roles in this field are expected to increase by ​29 percent​, or ​6,000 jobs​, in the years from 2020 to 2030. This is much faster than average growth compared to other industries.