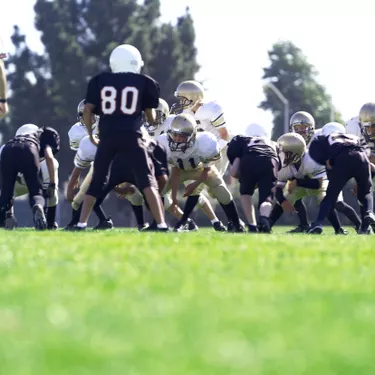 Offensive linemen are the players who protect the quarterback in the National Football League, or NFL. The most important part of a lineman's job is blocking. A typical NFL configuration consists of a handful of offensive linemen — a center, two guards, two tackles and and one or two tight ends. The salaries of NFL offensive linemen can vary widely by team and by player experience.
Top-Paid Offensive Linemen
When Jake Long was selected by the Miami Dolphins in the 2008 NFL draft, he became one of the highest-paid offensive linemen in the league. His five-year contract was worth $57.75 million, with $30 million in guaranteed money. His salary ranks among others at the top of the pay scale, such as Joe Thomas of the Cleveland Browns (five years, $43 million), Alan Faneca of the New York Jets (five years, $40 million) and Walter Jones of the Seattle Seahawks (seven years, $52.5 million).
Average Salary
The average salary of an offensive lineman, any position, in the NFL is $1,267,402, according to "Sports Illustrated." The number is derived from the base salaries of the more than 300 offensive linemen in the league. The average salary does not include bonuses or other compensation.
Lowest-Paid Offensive Linemen
The lowest paid offensive linemen in the NFL make the league's base salary of $310,000. In 2009, more than 50 players on active rosters made only the base salary. Some of those players, though, were eligible for additional pay in the form of bonuses.
Other Notable Player Salaries
Players with a large fan base typically rank among some of the highest paid, because they are good at their jobs. Dallas Cowboys left tackle Flozell Adams makes nearly $7.2 million per season (six-year, $43 million contract). Washington Redskins left tackle Chris Samuels has a seven-year deal worth $47 million. Michael Oher of the Baltimore Ravens, who was featured in the movie "The Blind Side," had a contract worth $310,000 in 2009, but earned $1.25 million after bonuses. Logan Mankins of the New England Patriots, who was a factor in the team's 2010 playoff run, earned a base salary of $1.4 million in 2009.