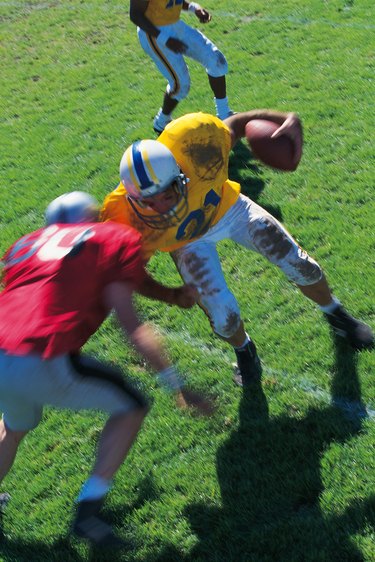 Linebackers are the heart and soul of any successful football defense. To ensure that this defensive unit operates at a peak level, football teams hire talented coaches to guide and direct these players. The position of linebacker coach has risen in prominence as linebacking units become increasingly more important to defensive schemes such as the 3-4. As such, linebacker coaching salaries continue to rise although great disparity remains between the highest- and lowest-paid coaches.
Linebacker Coaching
Linebackers line up directly behind the defensive line and in front of the secondary in a typical defensive football formation. This unit composes the middle of the defense and is responsible for defending the opponent's running game, dropping into pass coverage and even pressuring the quarterback. With so many responsibilities and with new defensive schemes putting even more defensive responsibility on this unit, a high priority has been placed on coaching. Salaries have risen accordingly.
College Linebacker Coaches
"USA Today" reported that salaries for assistant coaches, such as linebacker coaches, continue to rise --especially in the top college football conferences. In 2009 and 2010, several linebacker coaches in the Southeastern Conference received new contracts that put them at the top of the earning scale. The University of Tennessee's linebacker coach, Lance Thompson, earned $350,000 in base pay, not including performance-based bonuses. Other top earning linebacker coaches included the University of Georgia's linebacker coach, Kirk Olivadotti at $250,000 per year and the University of Florida's linebacker coach Dan Durkin who earned $240,000 per year. These salaries represent the high-end of a college football linebacker coach salary. In 2009, the lowest-paid assistant college football coaches earned salaries of approximately $40,000 while the typical salary ranged from $75,000 to $150,000.
NFL Linebacker Coaches
Teams in the National Football League are not required to release salary information for coaching staffs and generally choose not to. However, "Forbes" reported in 2011 that the highest paid head coach earned $7 million per year with the average NFL head coach salary coming in at around $3 million per year. Assistants such as linebacker coaches would be expected to earn in the high six-figure range to over $1 million depending on tenure and previous accomplishments.
Other Linebacker Coaches
Linebacker coaches at the lowest levels of competition such as junior high or high school football do not earn anywhere near what college and NFL linebacker coaches earn. Linebacker coaches at public high schools generally receive several thousand dollars for an entire season or may even work for free. Many assistant coaches are school employees and these earnings are paid on top of their regular salary.