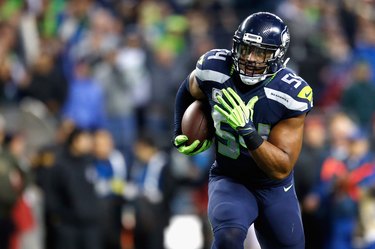 If you have ever watched a professional football game or you've been a football player yourself, then you've likely seen how many coaches are involved in leading the team toward success. Becoming a football coach, whether for college or the NFL, can be a great career for those who are passionate about the game.
But, if you want to become a linebacker coach, you might see a higher salary than in other coaching positions. This is because linebackers are the heart and soul of any successful football defense. To ensure that this defensive unit operates at a peak level, football teams hire talented coaches to guide and direct these players and pay them accordingly.
What is a Linebacker Coach?
In gridiron football, you generally have your offensive line and your defensive line. A linebacker – or LB – is a member of the defensive line and there are three on the field for each team during a game. The three are positioned based on a weak side, strong side and the middle, to align with the offense of the other team.
There is one outside linebacker, and their job is to cover the end to make sure a run doesn't escape and to watch for passes while protecting the line. Then, there are two middle and/or inside linebackers, whose job is to stop between the tackles and watch the entire field to see the play develop. They are known as the "Quarterbacks of Defense."
Linebackers have an important job and a linebacker coach has a big responsibility on his hands. Typically, they work under the team's defensive coordinator, coaching linebackers on tackling, pass-rushing off the corner, pass coverage drops, plays and general defense tactics.
The Average Salary of a Linebacker Coach
According to AZCentral, the highest-paid linebacker in the NFL is Bobby Wagner of the Seattle Seahawks, earning $18 million a year. But, that's not a huge surprise, as there are 16 linebackers in the NFL who make at least $10 million. Though linebackers themselves make a lot of money, the linebacker coaches generally trail behind. That being said, their salaries are still high – in the six-figure range for higher-paid linebacker coaches in college football and, in the NFL, well into the seven figures.
College Linebacker Coach Salary
College linebacker coaches can be paid a high salary. According to FootballScoop.com, as of 2021, the top three highest-paid college linebacker coaches make ​over $500,000​, with the highest-paid linebacker coach earning an average salary of ​more than $700,000​. That belongs to DJ Durkin, the linebacker coach of Ole Miss.
But, there are also defensive coordinators who coach linebackers, and they make even more than general college linebacker coaches (which is due to having a bigger role and responsibility). The top four defensive coordinators make over a million dollars, with Brent Venables of Clemson earning a salary of $2.4 million.
Sometimes, it can be difficult to find specific details regarding a linebacker coach's salary or a college wide receiver coach salary, and this is because they are often referred to as assistant coaches. Tosh Lupoi, assistant coach at Alabama and in charge of the defensive line, makes $950,000 a year which, according to the Chicago Tribune, is more than the salary of the school's president. And, Pete Carroll of the Seattle Seahawks – one of the highest-earning head coaches in the NFL – makes as much as Alabama's head coach Nick Saban at $11 million.
NFL Position Coach Salary
Even if you don't follow the NFL religiously, you've probably heard of the New England Patriot's success. And, that success is reflected in the salary of their head coach, Bill Belichick, who earns $12 million as his salary, according to Sportscriber.com. But, it takes time to work your way up to a head coach, and many of these top-earning coaches in the NFL were once linebacker coaches themselves.
This is true of Bill O'Brien, who started off as a linebacker coach at Brown University and now makes $5 million as head coach of the Houston Texans, and Ron Rivera, who was linebacker coach of the Philadelphia Eagles and now is the head coach of the Washington Redskins, making $8 million a year.
What Determines a College and NFL Assistant Coach's Salary?
Top-earning coaches have their salary based on a few factors, but generally, it's safe to say that wins matter. Coaches who consistently guide their teams to victory will see higher salaries. It also helps if the coach has experience and the team is popular; areas with a big demand and fanbase for football teams will see winning coaches with higher salaries and assistant coaches as well. This is why some college coaches can make as much as NFL coaches.