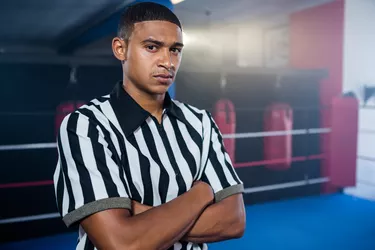 Boxing referees constantly move around inside the ring, instructing the competitors, avoiding getting hit and enforcing the rules of combat. It's a high-energy and even a risky job for sure, but it is also pretty exciting, with nonstop action and large, enthusiastic crowds. How much money does a referee in boxing make, and for that matter, how much do boxers make?
What Does a Boxing Referee Earn?
Some boxing referees become just as famous as well-known boxers and can earn up to six figures or more. Some of the most famous boxing refs include Richard Steel, Randy Neumann and Mills Lane. Within the world of professional boxing, fight promoters assign referees and pay them. The salaries are determined according to the match's professional or amateur status, the overall prize money (purse) of the night and the referee's experience. Pay can start at around ​$150​ per match and can be as high as ​$25,000​. It's easy to see that the top boxing refs can easily earn a six-figure income when they officiate many matches in a year.
High-profile fights between champion boxers will provide the highest pay rates, and it has also been reported that purses for these refs are highest in Nevada in cities like Las Vegas and Reno. The highest-earning mixed martial arts referees get paid ​$200 to $1,200 a night​. As with other sports referees, the more matches presided over, the more the annual pay.
How Do Boxers Earn So Much Money?
The world's top professional boxers earn staggering amounts of money. You are probably familiar with the biggest names in the sport; Manny Pacquiao, Canelo Alvarez and Floyd Mayweather are three of the top ones. These fights are some of the most-watched sporting events in the world, and they often bring in a ton of gambling money as well. The IRS provides guidelines for how to handle these winnings. The purses are only one way that these boxers earn money. There are also the pay-per-view royalties and sponsors who support the fights.
The U.S. Bureau of Labor Statistics shows that paid athletes and sports competitors earned an average of ​$77,300​ a year in 2021, which is not bad for this kind of work. According to this source, there were ​16,700​ people employed by various organizations in this category in 2020, and it projected an increase of ​38 percent​ from ​2020 to 2030​. However, some amateur and professional boxers struggle to earn a living, while those in the top echelon might earn tens of millions of dollars a year.
How to Referee a Boxing Match
The world does not have a ruling body for professional boxing that applies to every country, so the United States has its own rules along with separate ones for different states. The boxing ring is approximately 18 to 22 feet square, with four strands of rope on the sides. There can be from four to 12 rounds that last three minutes each.
Refereeing involves standing inside the ring and regulating the proceedings, and the judging is often left to two judges who sit outside the ring. The ref stops the boxers when they make illegal moves or someone is injured, but the judges award the points for each round. When there is a knockout, the referee counts to 10, and the other wins if the fallen fighter does not get up.
USA Boxing is the official national governing body for the country's Olympic-style boxing. Those interested in working for this organization can visit their Officials' Education Resource Center. Each year, applicants must finish a SafeSport Certification online course. They must also attend an in-person clinic or complete an official online test.