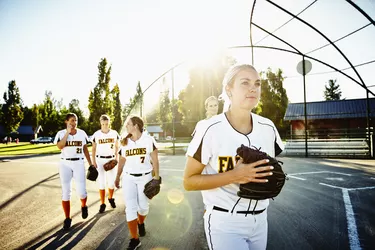 When many people think of professional sports and the athletes who play them, softball may not be the first thing that comes to mind, as it does not get the same level of media attention other sports do. Nonetheless, there is an American professional softball league called Women's Professional Fastpitch (WPF). What is a professional softball salary for the players? You may wish to learn more about how much money pro softball league players earn, including annual income and average highs and lows, as well as what professional softball league players can do when they retire from the game to support themselves.
Professional Softball Salary
According to ZipRecruiter, pro softball athletes earn an average annual salary of ​$47,034​. Other sources list it a bit higher, at just over ​$60,000​ per year. Currently, Monica Abbot is the highest-paid professional softball player. She signed a ​$1 million​ deal in 2016. She also plays on the U.S. Olympic team.
The United States Bureau of Labor Statistics reports that professional athletes make an average income of ​$77,034​, so pro softball players receive relatively low pay compared to their peers. That being said, the lowest 10 percent of earners in professional sports only made about ​$25,270​ in 2021.
Even if a player shows exceptional promise and skill, teams in major league softball have low salary caps, meaning that professional softball players can't earn anywhere near as much as their counterparts in other professional sports, including men's baseball, where the minimum salaries for all players are over $500,000 per year.
Professional softball players can try to supplement their income in various ways, even while they're still competing. Top players may receive endorsements or offers to appear in advertisements, especially for softball-related products. They may also be able to snag some paid interviews or public appearances. It helps to have representation from a sports agent if you want to earn money this way.
There are also other ways that professional softball players can stay in the field and earn a living, especially after they retire.
What Can Pro Softball League Players Do When They Retire?
It's well-known what many former professional athletes in more famous leagues do when they retire: many become announcers, coaches, experts and otherwise stay visible on the sidelines of their game. What about retired professional softball players? Many of the best players become coaches. Even though professional softball isn't a prevalent spectator sport, it is highly competitive at the amateur level, especially in college. Colleges and even some top high school programs recruit the best coaches aggressively and pay them accordingly.
Of course, some former players also coach at the professional level. Colleges and professional teams need not only general coaches and managers, but also coaches for various positions and other aspects of the game. Since most professional softball players also played in college, most earned college degrees. That means that when their softball days are over, they have other careers on which to fall back. These may range from sports-related fields like sports management or becoming a sports agent and representing other athletes. Others become physical therapists and work with athletes since they understand their unique needs.
Other former college and professional softball players leave the sport entirely in favor of different career paths. Regardless of where they work, softball players carry the lessons they learned from playing and their teammates' camaraderie with them for the rest of their lives.