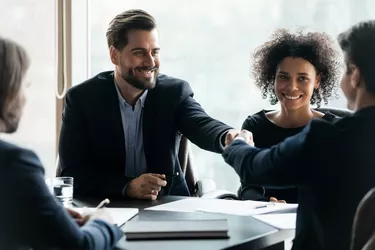 Salary ranges for sports agents vary based on their commission structure (which includes the percentage they earn), profile of the athletes they represent, and number of clients. Commission rates are set by the sports leagues with actual percentage amounts determined by the players and agents.
Major Sports Agents' Commission Scale
In the National Football League, agents are paid 3 percent from player salaries. In the National Basketball Association, agents are capped at four percent. Major League Baseball agents receive five percent. National Hockey League agents can make up to four percent.
In each sport, agents may represent several clients who range from athletes with large multimillion-dollar contracts to those with small contracts and no money guaranteed. Agents' commissions may be based on percentages, flat-fee arrangements, hourly rates (typically for agents who are also attorneys), or a combination of these methods. Sports agents typically receive between three and five percent of their players' salaries and may negotiate flat-fee arrangements for endorsement deals in which they are paid directly by the companies.
An average commission in the NBA, where the average player earns $7.5 million annually, would earn an agent $300,000 per player. In Major League Baseball, the average player salary is nearly $4.41 million annually and the average agent's salary is $220,500 per player. With some NFL players making as high as $20 million dollars the potential for a sports agent to make $600,000 is possible.
Top sports agents such as Jonathan Barnett and Scott Boras earn millions of dollars annually and represent some of the highest-paid athletes in the business. The average income for sports or entertainment agents varies according to region. According to Indeed, the median yearly salary for sports and other agents in 2021 was $65,115. In spite of status or experience, sports agents earn a commission between 3 and 5 percent.
The difference between the highest and average earners is dependent upon the profiles of the athletes they represent and the contracts they negotiate. Also, it is customary for agents to represent a combination of players earning mega-salaries and players earning average salaries.
How Much Does Drew Rosenhaus Make
One of the biggest sports agents in the U.S. is Drew Rosenhaus. He has negotiated $7 billion in contracts for various NFL players. With a yearly salary of $30 million, Rosenhaus's net worth is around $165 million. One reason he can attract NFL players is his willingness to take a lower commission rate. This results in his clients earning more money.
What Does a Sports Agent Do
Sports agents represent professional athletes and are paid when their clients are paid. Among their day-to-day duties for their clients, they negotiate contracts, procure other sources of revenue from endorsement deals and appearances, and assist with financial planning.
Agents keep athletes focused on career goals. They assist their clients in maintaining their financial health. An agent recruits new talent and and manages their client's marketing and promotion.
Sports agents must understand the nuances and details of their client's sport. That's why most sports agents usually specialize in one sport. A good agent will also help a player set up a professional network.
If you want to be a sports agent start with pursuing higher education. Most sports agents have a bachelor's degree. You should take marketing and business management courses. You'll need to know the ins and outs of sports management and taking on an internship is a great way to do that. Even if it's not paid, the knowledge you gain will be invaluable. Use the internship to find a position with a sports marketing agency. Prepare yourself for a lot of hard work.