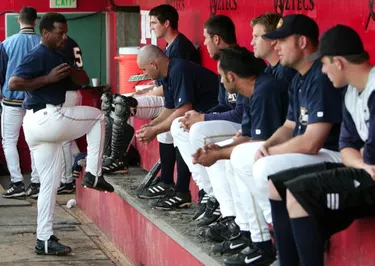 For professional baseball players, the major leagues is the desired destination but not the only stop. Through independent baseball leagues such as the Frontier League and the American Association of Baseball, baseball players can earn a living playing the game they love while continuing their pursuit of major league careers. Unlike players in the major leagues, independent baseball league players earn modest salaries and may work other jobs during the off-season.
Player Salaries by Leagues
Prior to its extinction in 2010, the Northern League paid its baseball players an average salary between $700 and $2,500 monthly according to Angelfire.com. Another former league, the Western League, paid its players between $700 and $2,000 monthly. Veteran players earned the higher end of the range. In the Atlantic League, which is still in existence as of publication and includes teams such as the Camden Riversharks and Newark Bears, players earn a salary range between $700 and $3,000 monthly, according to Angelfire.com. In the also current Frontier League, players earn between $550 and $1,500 monthly.
Talent Range
Due to injuries or performance, a number of major league players are forced to continue their careers the independent leagues. Some of these players were former superstars such as Darryl Strawberry, Jose Canseco and Ruben Sierra. In the major leagues, where players earn millions of dollars and lifestyles are more glamorous, a demotion to the independent leagues can be humbling. Independent developmental leagues, which supplement independent baseball leagues, ask players to pay in some capacity because ticket sales and merchandising sales are not enough to cover all team and league expenses.
Example
A May 2011 article for Bleacher Report chronicles players who play for minimal or no salaries in independent league baseball. According to the article, the Las Cruces Vaqueros of the Pecos League has a $20,000 team salary and pays players as low as $200 per month and as high as $400 per month. However, the cap was expected to increase in 2011 to $500 per month. Ten of the team's thirty players will not be paid.
Manager Salaries
As with Major League Baseball teams, independent league baseball teams have managers who oversee the training and development of players, implement game strategies and determine player lineups for games. In a June 2011 article for Cincinnati.com, Fran Riordan, manager of the Frontier League's Florence Freedom remarks that he received an additional $1,000 (added to his $800 monthly player salary) to be a player manager for Dubois County Dragons in 2004. Player-manager arrangements are popular in independent league baseball. Yet, manager salaries vary because of the varying salary caps among leagues. In the Frontier League, the salary cap is $72,000 per team for the season, compared to the Northern League's $105,000 salary.