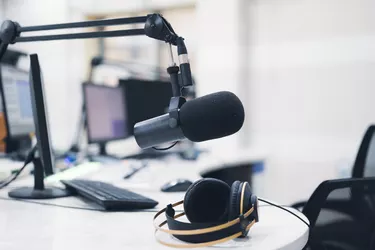 Whether you attend races in person or watch them on television, NASCAR fans recognize and trust their favorite NASCAR announcers. How much money do announcers for NASCAR earn? These NASCAR announcers are professionals, and the amount they earn varies depending on their prior experience and exact role. If you want to become a NASCAR announcer, you'll want to learn some tips about the best path to that position.
How Much Do NASCAR Commentators Make?
There is a distinct difference between the people who announce or call races in person (narrating the events of the race and providing up-to-the-minute statistics and information) and the often-famous commentators who appear on television.
Various sources report that announcers employed by NASCAR make just under ​$40,000 per year​. Many of them are only part-time employees who work limited hours. According to the U.S. Bureau of Labor Statistics, broadcast announcers, who fall under the "announcers and DJs" category, earn a mean annual wage of around ​$50,000​, so NASCAR announcers may be on the lower end of that range.
For comparison, how much do NFL announcers make? Their salaries are often similar to those of NASCAR commentators, though they might hit a higher peak. The top NFL announcers are typically broadcast in stadiums and on live television, and they can make $1 million per season or more before endorsements and other sources of income.
Former Drivers as NASCAR Announcers
There are two primary routes to becoming a NASCAR announcer, especially if you want to have a top position working on television. The first is to work your way up as an athlete or participant in the sport, and the other is to become a top expert in the field via other methods.
Today's most famous NASCAR announcers include Clint Bowyer, Dale Earnhardt Jr. and Steve Letarte. Letarte was a crew chief for all-time great racers such as Jeff Gordon and Earnhardt Jr. Earnhardt was a driver and the son of one of NASCAR's early icons, and Bowyer was a former stock car driver in NASCAR.
Of course, many NASCAR announcers have income from other sources, especially if they're former drivers. They have endorsements and advertisements as well as public appearances. They may also have product lines and investments. For example, Dale Earnhardt Jr.'s net worth is around $300 million. Much of this came from his time as a driver. The U.S. Bureau of Labor Statistics notes that the yearly salary of sports competitors, the category into which NASCAR drivers fit, can go well above ​$208,000​ for the top performers.
Tips for Becoming a NASCAR Announcer
Many announcers for NASCAR got their start within the industry either as drivers, crew chiefs or car designers or in other positions. Their experience within the sport often lends authority to their name and opinions. They can often offer first-hand knowledge of what unfolds during a live race because they have experienced it. Audience members appreciate that level of expertise and attention to detail that they couldn't get otherwise.
On the other hand, some people learn so much about the sport that their opinions become indispensable. These people often have an equal passion for the sport but do not participate firsthand (NASCAR is not an easy sport to get into, after all). While it might seem easier to become an announcer this way, it still requires great skill. These kinds of experts are usually very good at math and logic and are able to solve complex problems. They can also recall seemingly mundane details and statistics at a moment's notice, which is not easy to do.
Regardless of how you get the job, NASCAR commentators at all levels have to be effective communicators. They must also have some stage presence, or audiences will not enjoy watching or listening to them.