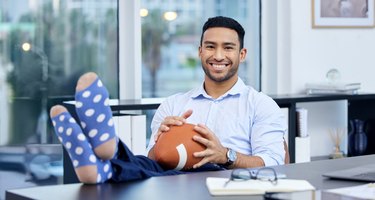 Anyone who has dreamed about working on the operations side of the NFL knows these jobs are highly desirable and not always easy to come by. NFL careers are often started from the ground up, with employees working their way up through the ranks. It's also not unusual for people to start at high schools and colleges before getting into the big leagues.
How Much Do Football Managers Get Paid?
A job posting for a football manager at Stonewall Jackson High School shows that this part-time job requires setting up practices, inventory management, helping team members and family members set up meals, fundraising efforts and supporting team managers. This sort of work might be a good entry-level position, but you can't expect to earn much at this; it might even be a non-paid job. Still, it can be an excellent way to get your foot in the door, especially if you have the right kinds of skills and determination.
A college football team manager does much of this and handles other things, like recruiting players and helping with transportation to games. Some job boards estimate that a director of football operations salary for college teams ranges from ​$18,000 to $128,000​, with an average of ​$64,550​. At schools with large football programs, you can expect more responsibilities and pressure, though; some of these require hiring assistant directors of football operations.
NFL Football Operations Jobs
The experts on the NFL Careers website provide a list of all of the available NFL football operations jobs at any given time, making this site a great place to see what they have available. One of their management positions is a seasonal remote operations specialist. This position requires a bachelor's degree and focuses on media and film production for the Wranglers. Another lower-level operations position is a player relations coordinator. This person would be helping a supervisor with a team's logistics, including contract management, staff scheduling, travel and itineraries and database management.
NFL team operations careers can also focus on finance, marketing, team sponsorships, talent management, technical management and seasonal projects. The average NFL employee salary is around ​$66,000​ a year; however, this salary can vary wildly depending on the particular position. On the high end of the spectrum are their professional athletes, and at the low end are interns that average about ​$12,000​ a year. While internships are an excellent way to get your foot in the door, they certainly don't pay well.
What Is the NFL Ops Team?
Troy Vincent, Sr., the current Executive Vice President, Football Operations for the NFL, is a former player and was previously the Senior VP of Player Engagement. His head of football operations job description focuses on handling team development and growth and game analytics; he is held accountable for game integrity, protecting players from risk and adhering to NFL policies and procedures. Other members of this executive team include a Senior VP, Officiating Training and Development; a Senior VP, Football Operations; and a Senior VP, Football Operations Policy, Education and Relationship Management.
NFL does not make their salaries public, generally speaking, but you can rest assured that Troy Vincent, Sr. is worth millions of dollars. The executive team members probably also earn impressive incomes. Otherwise, online job boards that combine data from many sources offer estimates that you can look to as references. For example, the writers at Comparably state that the median NFL operations manager salary ranges from ​$32,000 to $316,000​, with an average of ​$118,808​ a year made up of a base of ​$99,966​ plus bonuses.