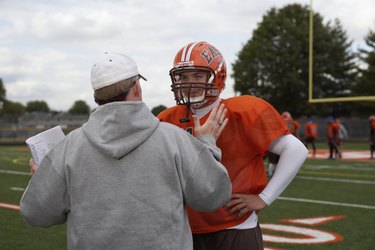 Each National Football League, or NFL, team employs a Football Operations Manager. The role of the operations manager varies, depending on the team's needs. In general, these individuals coordinate day-to-day logistics for players and staff. They can also assist coaches in coordinating player development opportunities. The salary of NFL operations managers depends on their experience and team budget.
Qualifications
Football operations managers typically attend four year universities and obtain a Bachelor's Degree in a sports-related field. It is also helpful to participate in internships and volunteer opportunities with the college football team. This provides experience that can be placed on a resume. Following college, individuals interested in football operations manager positions must work their way up to the position by starting as an intern or assistant operations manager.
Salary
NFL salaries for staff are not released to the public. This makes it difficult to know the exact wage information for NFL football operations managers. The Bureau of Labor Statistics states that the average salary for coaches in spectator sports is $60,610. The NFL pays the highest salaries for football operations managers, since the NFL is the highest level of professional football. Besides a base salary, these individuals receive a comprehensive benefits package.
Job Duties
NFL Football Operations Managers need a background in football to understand the demands of this position. Most operations managers played football in college or professionally, then took sports management courses to understand the business side of the sport. This position can be grueling and time consuming during the football season due to the constant traveling. The operations managers coordinate the players and staff schedules both at home and on the road.
Job Outlook
The NFL consists of 32 football teams. Each team has one football operations manager. This means there are 32 positions that exist each season. These positions typically hire within which means that assistant operations managers generally fill the operations manager positions when vacancies occur. Vacancies do not occur often, because NFL positions are highly sought after.