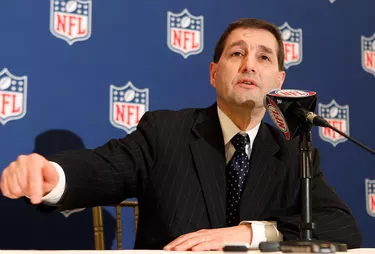 The NFL (National Football League) is one of the most important professional sports leagues globally and the top football league in the United States. NFL executives earn good livings, and snagging one of these highly sought-after positions is a real win. The current Commissioner of the NFL is Roger Stokoe Goodell, and the NFL Operations Team page shows that Troy Vincent Sr. is the Executive Vice President of Football Operations.
NFL Executives Description
Looking at the NFL Career Site's job postings, there are more than ​150 open positions​, ranging from production assistants to media strategy and business development directors. These are good ways to get your foot in the NFL door since, like other professional sports organizations, they prefer to promote from within. And since their main headquarters are in New York City, many of the executive positions are based here.
The types of executive job descriptions at the NFL vary and include areas like marketing, business development, media operations and production. Looking at the Director of Media Strategy & Business Development job description can provide insight into the daily responsibilities of a high-level NFL job. This executive would identify new market initiatives, develop and execute business strategies, conduct financial analyses, develop new business proposals, create important presentations and manage other team members.
As the boss of the NFL, Goodell is in charge of NFL officiating and operations, heads NFL Ventures (stadium development, marketing and sales, media properties) and has the final word on strategic planning. As Executive VP of Football Operations, Vincent Sr. develops, monitors and manages program and activity budgets, player contracts and logistics for games and events and supervises staff.
NFL Executive Education Requirements
To become an executive in any major company or organization, prospective employees will need a bachelor's degree or better in their chosen field. To get into the NFL front office job salaries category, it also helps to have experience playing football or comprehensive knowledge of the game, plus networking connections. Take Goodell, for example. The writers for Wealthy Persons post that Goodell's father was a New York State Senator, and Goodell was a high school sports star. He earned a degree in economics from Washington & Jefferson College (he could not play college football because of an injury), became an NFL administrative intern in 1982, assisted the AFC President and became the Executive VP and CEO by the end of 2001.
Vincent Sr.'s website describes how he played for the Miami Dolphins for 15 years and was inducted into the Philadelphia Eagles Hall of Fame. He later became the player's union president before nabbing the Senior Vice President of Player Engagement position. While these kinds of lofty NFL positions are for the few chosen ones, others can be considered for NFL executive positions if they have the right types of backgrounds and experience.
CBS Sports claims that Goodell earned ​$127.8 million​ for the 2020-2021 fiscal year, which they called "astronomical." It is also estimated that Vincent Sr.'s net worth is ​$71.5 million​, and Career Explorer posts that the median salary of an NFL general manager ranges from ​$1 to $3 million​ annually. Of course, other NFL front office jobs' salaries are much less than this, but they are still worth aspiring to.
According to Comparably, an NFL team general counsel salary is approximately ​$210,000​ annually, followed by a corporate counsel salary of ​$195,000​ and a contracts specialist salary of ​$89,000​. Glassdoor claims that an NFL human resources manager earns from ​$82,889 to $104,356​ on average, and product managers average from ​$114,122 to $160,435​.