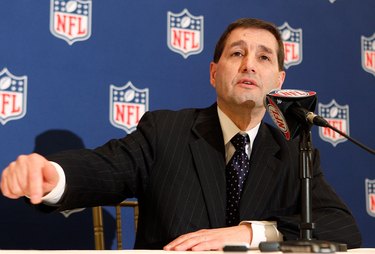 Executives in the National Football League (NFL) can bring in large salaries but the numbers vary quite a bit depending on a person's role. The league commissioner is the highest paid executive but others also bring in multi-million dollar annual salaries. According to Internal Revenue Service disclosure rules, the salaries of the top officials are made part of the public record.
League Commissioner
NFL Commissioner Roger Goodell is the highest paid executive in the league. In the fiscal year that ended on March 31, 2009, the latest data available, he earned $2.9 million in base pay and another $6.86 million in bonuses and deferred pay for an overall compensation package of $9.76 million. Goodell works under a contract that is valid through March 1, 2015. However, the league has felt the impact of tough economic times when it comes to salaries. In 2009, no executives earned an increase in base pay and their bonuses were smaller than in the previous year, according to an NFL memo acquired by Sports Business Daily.
League Consultants
Two past league officials are also still being paid by the league for consulting work. Former commissioner Paul Tagliabue earned $3.3 million in consultation fees in 2009. Former league president Harold Henderson earned $2.09 million for his continued work with the NFL.
Top-Level Executives
Aside from the commissioner, other top NFL executives also bring in multi-million dollar salaries. The top three executives earn an average of more than $5 million. The head of NFL Media and the NFL Network, Steve Bornstein, has the highest earnings at $7.44 million. He is followed by Jeff Pash, chief labor negotiator and general counsel, at $4.85 million, and Eric Grubman, executive vice president, marketing and sponsorships, at $4.44 million.
Other Top Executives
The three NFL executives at the bottom of the salary chain average more than $1 million a year. Executive Vice President of Communications Joe Brown earned $1.7 million in the fiscal year ending on March 31, 2009. Ray Anderson, executive vice president, football operations, earned $1.12 million, and the NFL chief financial officer, Anthony Noto, brought in $853,000.
Total Salaries
There are many others who work in the NFL executive office whose salaries are not subject to disclosure. In the fiscal year ending on March 31, 2009, the NFL headquarters in New York City doled out $71.8 million in total compensation and benefits for its employees. This number does, though, include the salaries of the 120 game officials working for the league.