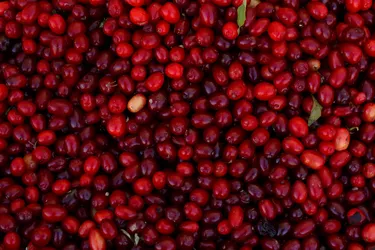 Producing 60 percent of the nation's cranberry supply, Wisconsin has been the top cranberry-producing state in the U.S. for more than 15 years. In Wisconsin, cranberries add $300 millions a year to the state's economy and support 3,400 jobs. Cranberry farms can also be found in Michigan, Massachusetts, New Jersey, New York and Oregon. Earnings from cranberry farming vary depending on the investment in the farm, the size of the farm, weather conditions and other factors that can influence harvest production.
Income
The United States Department of Labor's Bureau of Labor Statistics reports full-time, salaried agricultural managers earned a median weekly salary of $775 in 2008. The middle half received between $570 and $1,269 per week. The lowest-paid 10 percent of wage earners received less than $358. The highest-paid 10 percent received more than $1,735 per week. The BLS reports that in 2010, the median hourly wage of farm workers was $21.65 with an annual medial wage of $45,040.
The financial risks in cranberry farming are substantial, and not all berry farmers are successful. Many cranberry farmers supplement their farming income with off-farm employment. The United States Department of Agriculture's Economic Research Center reports the average net cash income for farm businesses is projected to be $83,100 in 2011. The 2011 projection is a 17 percent increase from the 2010 estimate of $71,100.
Job Description
Cranberry farmers cultivate, harvest and market cranberries for profit. They typically own their own bogs or lease other wetlands for cranberry farming. The work is outdoors and seasonal. The duties of a cranberry farmer are dependent on the season and the size of the farming operation. Cranberry farmers operate harvest and irrigation equipment, apply fertilizers and pesticides and package and market the finished product.
Qualifications And Training
Cranberry farmers must have a solid knowable of cranberry cultivation, business practices, management and sales techniques. Although a college education is not a requirement, many cranberry farmers have a degree in agricultural or earth sciences, business management or marketing. Many cranberry farmers have gained experience working on a family farm.
Employment Opportunity Outlook
America loves cranberries. They are a rich source of fiber and vitamin C. More than a million pounds of dehydrated cranberries were shipped to U.S. troops overseas during World War II. As more cranberry farmers switch their cultivation methods to organic farming, the demand for the tasty fruit is expected to remain high. The USDA predicts the 2011 cranberry crop at 7.5 million barrels, up more than 10 percent from 2010.