Accountants and financial analysts both play key roles in business. Accounting is a broader field, and accountants are responsible for everything to do with a business' finances. Analysts have a tighter focus, concentrating on assessing the health and value of a company or its divisions. There's some degree of overlap between the two careers, but they're distinctly different.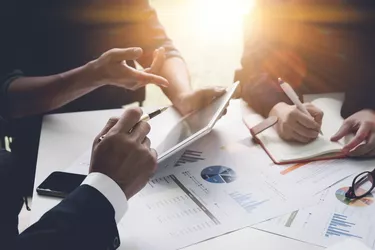 Accountant Job Duties
Accountants, like doctors, can be generalists or specialists. Certified public accountants usually work as auditors and tax professionals, providing advisory services to clients. Managerial accountants usually work in teams that focus on strategic planning and cost control. They record financial information used to create budgets and control product cost. A company's management team uses reports produced by managerial accountants. Forensic accountants work with companies and law professionals to detect illegal activities occurring in accounting departments. Financial accountants record transactions, which then provide the raw data used by executives and management accountants to make informed decisions about the company's direction.
Financial Analyst Job Duties
A financial analyst can work in the investment industry or for private and public companies. Financial analysts working in the investment industry analyze a company's finances and construct models to predict the effects of mergers and acquisitions, leveraged borrowing, personal investments and asset management. Analysts working in other industries analyze a company's financial statements and trends to make budgetary and financial recommendations based on their findings.
How They're Educated
Most accountants acquire at least a bachelor's degree in accounting. Some companies hire accountants with finance or other business-related degrees. Many employers require public accountants to possess a master's degree in accounting or a related field. Financial analysts usually possess at least a bachelor's degree in finance, accounting, economics or statistics. Some employers, especially investment banks, require financial analysts to have a master's degree in business administration.
Licensing and Certification
The most common type of certification for accountants is the certified public accountant designation. Other certifications include the certified internal auditor designation, certified management accountant designation and the certified information systems auditor. Financial analysts can earn a certification as a chartered financial analyst.
Typical Salaries
According to the Bureau of Labor Statistics, the median salary for accountants as of 2016 was $68,150. The top 10 percent earned $120,910 or higher, and the bottom 10 percent earned $42,140 or less. The median salary for a financial analyst as of 2016 was $81,760. The top 10 percent of workers earned $165,100 or more, and the bottom 10 percent earned up to $50,350. The BLS' state by state breakdown shows that New York, D.C., New Jersey, Virginia and California were the highest-paying markets for accountants in 2016. For financial analysts, New York, Colorado, California, Connecticut and D.C. offered the highest salaries.