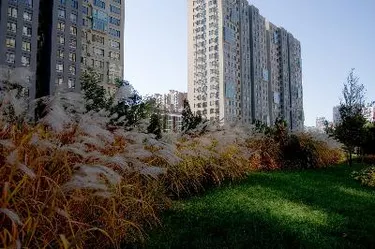 Owners of a variety of investment properties utilize the skills of property managers to handle the management obligations of residential, commercial and industrial properties. Property managers are responsible for overseeing the financial operations of a property. Some property managers handle other day-to-day property management duties, such as maintenance, marketing and leasing the property. According to the Bureau of Labor Statistics, property managers earned median annual wages of $46,130 in 2008.
Profession
There are different types of property management occupations, including on-site property managers and real estate asset managers. On-site property managers manage building structures, such as apartment buildings. On-site property managers deal with tenant issues and on-site property maintenance and oversee the direct financial obligations of the tenants, such as rent collection and termination of lease agreements. Real estate asset managers manage the purchase, sale and development of properties. They work on behalf of the property owners to oversee the budgeting and operating expenses of the property, but real estate managers usually do not handle the day-to-day operations of the property.
Qualifications
Most employers hire property managers with educational degrees in business administration, real estate, public administration or a related degree. The Bureau of Labor Statistics reports that property management job opportunities are favorable for individuals who have a bachelor's degree in business administration or real estate. However, there is no specific degree requirement to become a property manager. Most property managers acquire on-the-job training, and some employers hire property or real estate managers with some experience in handling real estate transactions. Also, some individuals may advance to property management positions by working their way up from lower positions.
Licensure
Real estate managers who are responsible for the purchase and sale of properties are required to be licensed in all states. Also, property managers or property management companies must be licensed brokers in most states, and many property managers who work under property management companies may be real estate sales agents.
Broker's License
Most states require candidates for a real estate broker's license to acquire a certain amount of experience as a real estate sales agent; the requirement is two years of experience in many states. Individuals with bachelor's degrees in real estate may not be required to obtain a certain amount of real estate sales experience. Applicants for real estate broker's license must complete 60 to 90 hours of classroom training and pass a state-administered examination.