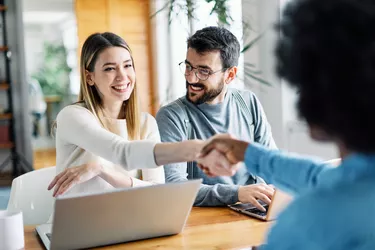 Leasing consultants manage all aspects of renting a property, from advertising to negotiating the lease terms. While most employers seek experienced consultants, some are willing to hire interns or fresh grads. You just need to be able to demonstrate your skills and show how you would bring value to the company. Here's what you should know about working as a leasing consultant and how to break into this industry.
Tip
Aspiring leasing consultants may complete internships or take courses in property management, sales or business administration to gain experience. Another option is to work as a concierge or office administrator for a few months and then apply for a role as a leasing consultant.
What Leasing Consultants Do
Managing a property comes with its challenges. If you're ready to rent out your home, you must keep it in good condition, find tenants and collect payments. You also need to know what to do in the event of a fire or other emergencies affecting your property. There is also a risk of having bad tenants who may damage the property or sublet without your knowledge. Given these aspects, it's not surprising that many landlords prefer to hire property managers or leasing consultants.
Most leasing consultants are employed by property managers, but some may work on their own. These professionals seek tenants and manage rental properties on behalf of landlords. They may create and post rental listings, inspect the property, negotiate the lease terms and investigate complaints. Depending on the job, they may also become involved in the local community and participate in outreach programs, points out the National Apartment Association (NAA).
As far as education goes, many employers only require a high school diploma. Job seekers with an undergraduate degree in real estate, business administration or finance may have a competitive advantage. The median annual wage is around ​$37,500​, but it's possible to make over ​$63,000​ per year, according to PayScale. Experienced leasing consultants may apply for higher positions that are better paid. Training managers, for example, are responsible for assisting new hires and can earn up to ​$75,000​ per year, reports NAA.
Complete Relevant Training
Many property managers prefer to hire leasing consultants with experience in business or real estate. If you're just getting started, you have three options: pursue an undergraduate degree, take real estate courses or work in a related field. A bachelor's degree program takes four years to complete, and some students may have a hard time juggling work and school.
A more convenient option is to take courses in property management, real estate, business administration or sales. The National Apartment Association Education Institute offers several training programs through Visto. For example, you may study to become a Certified Apartment Leasing Professional (CALP).
This program will equip you with the skills needed to find and attract qualified tenants, advertise vacancies and meet the needs of current residents. You will also learn more about the sales process and how to build relationships with your clients. Plus, you'll have the chance to gain real-world experience during training. Visto also offers individual courses in customer relationship management, conflict resolution, advanced leasing practices and other related topics.
Another option is to start out as an office administrator or concierge to acquire experience. NAA suggests working as a receptionist or getting a job in retail and then applying for a role as a concierge. This would help you develop the skills needed to become a leasing consultant and climb the career ladder. You'll learn how to build rapport with customers, how to stay organized, how to handle conflicts and more.
Alternatively, you may look for internship opportunities at a local property management company or real estate agency. Some real estate companies offer on-the-job training and may allow you to work under the guidance of a supervisor or mentor. Meanwhile, focus on improving your sales and marketing skills.
One way to do that is to complete training in sales at the Institute for Professional Advancement. The organization's Certified Professional Sales Consultant (CPSC) program will teach you about lead generation, effective communication, consultative selling, goal setting and more. It takes seven days to complete and includes a three-part certification exam.