Professional football is a thriving industry in the U.S., with the National Football League bringing in billions of dollars each season. Keeping athletes at peak performance is a huge priority for these teams, since so much is riding on each game. Although coaches play a big role in this, the trainers who work closely with the athletes keep them on the field by helping the players prevent and recover from injuries. If you're thinking about becoming an athletic trainer for the NFL, you may be wondering what kind of salary to expect.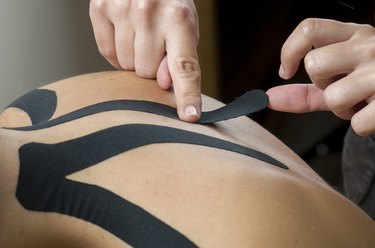 Salary Ranges
According to the Bureau of Labor Statistics, the median salary in 2016 for an athletic trainer in the U.S. was $45,630. However, athletic trainers can work everywhere from college campuses to medical offices, so NFL salaries may vary. Athletic trainers in the field of spectator sports earn an annual mean wage of $56,180, but this can also vary based on team and location. The reported salary for an NFL trainer for the Miami Dolphins, for instance, ranges from $40,000 to $48,000.
If you're open to moving, consider the southwest or New England, since states in these areas report the highest wages. Texas, Wisconsin and Michigan also report the best salaries — $49,130 to $67,500 — for athletic trainers.
Career Outlook and Qualifications
In addition to paying a good wage, Texas also has a great career outlook for athletic trainers, coming in as the state with the highest employment level. It is also one of the states that has the most number of people employed in that occupation. If the NFL is your eventual goal, plan to live in a state with at least one team. Although 28 states have no NFL team at all, California, Florida, Maryland, New Jersey, Ohio, Pennsylvania and Texas each have more than one team.
If you're interested in joining the NFL as an athletic trainer, complete an athletic training bachelor's degree program accredited by the Commission on Accreditation of Athletic Training Education. You'll also need to achieve certification through the Board of Certification, which will require that you take an exam. One of the quickest paths to becoming an NFL athletic trainer is to complete an internship. Generally, one to two internships are available per team each year, with applications accepted in the fall.
A career as an NFL athletic trainer is a great way to work directly with your favorite team while also getting paid. Although salaries can vary, you can boost your career outlook by choosing the right team in a location where trainers are in demand.