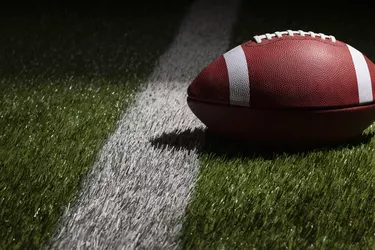 Joining the National Football League (NFL) as an athletic trainer can be a life-changing experience. Imagine working with your favorite athletes, traveling the world and using your skills to make a difference. The NFL currently has 161 athletic trainers, according to the Professional Football Athletic Trainers Society (PFATS). You can become one of them and help your team perform at the highest level.
Athletic training is a discipline focused on injury prevention, treatment and recovery. Professionals in this field use their expertise to help athletes and gym-goers regain their strength, mobility and endurance. They may also provide primary care, create wellness programs and educate the public on health-related topics, explains the National Athletic Trainers' Association (NATA). Their day-to-day duties may also include:
Diagnose acute and chronic injuries
Provide physical therapy services and emergency care
Monitor professional athletes during training and sports events
Design custom rehab programs
Create nutrition and training plans
Carry out administrative tasks as needed
As an athletic trainer, you'll work under the supervision of a licensed physician, notes the U.S. Bureau of Labor Statistics (BLS). Expect to spend a lot of time outdoors and inside training facilities, maintain treatment logs, assist the coaching staff and evaluate injuries. This is a full-time job, and you may need to work on evenings and weekends. Also, be prepared to travel with your team and adapt to an ever-changing environment.
The first step to breaking into this industry is to earn a bachelor's degree in athletic training. The NFL, however, may require a master's degree or higher and specialized courses; just make sure you choose a program approved by the Commission on Accreditation of Athletic Training Education. After graduation, students must take and pass an exam administered by the Board of Certification for the Athletic Trainer. Later, they may complete clinical and doctoral degrees or specialize in one or more areas.
NATA reports that 70 percent of athletic trainers hold a master's degree. These professionals often pursue continuing education and may complete specialized training in health care administration, injury rehab, sports medicine and more. There's also the option to apply for an internship at the NFL, says PFATS. Interns are responsible for applying tape and bandages, assisting with stretching and preparing the game field, among other duties.
Industry and Work Environment
Certified athletic trainers may work in hospitals, private clinics, wellness centers or fitness facilities. Some are employed by professional sports leagues, like the NFL or NBA, while others find work in law enforcement. If you're just getting started, look for athletic trainer jobs at local schools or gym centers. For example, you could work in a high school setting for a couple of years to gain experience and hone your skills. Alternatively, you may complete an internship and later start your own practice.
The NFL receives thousands of internship applications each season, according to NATA, but only 200 to 250 candidates are successful. To increase your odds of being selected, try to get at least three references and put some work into your cover letter. Let your personality shine; don't just send a generic application.
As far as salary goes, the national average is around ​$48,400​ per year, reports the BLS. In 2020, NATA members, including NFL trainers, earned anywhere between ​$36,000​ and ​$175,000​ depending on their experience, location, work environment and other factors. Those working for an NFL team make about ​$45,900​ per year, but it's possible to earn over ​$82,000​, according to Glassdoor (based on self-reported data).
Athletic trainers may earn more or less depending on their work experience. The lowest salary for an NFL trainer is around ​$25,400​ per year, says Glassdoor. As you progress in your career, you'll be assigned more complex duties, which may lead to higher earnings. As reported by PayScale, examples are:
​1-4 years:​ $41,748
​5-9 years:​ $47,236
​10-19 years:​ $50,449
​20 or more years:​ $58,028
These figures are based on self-reported data, so the actual numbers may vary. Plus, NFL trainers are more specialized than the average athletic trainer, and their salaries reflect that. As a newcomer to the industry, you may start a side hustle to grow your income and make a name for yourself. For example, consider offering training and nutrition plans online or creating partnerships with local gyms. You could also start a training camp for young athletes or active adults looking to improve their fitness.
The demand for athletic trainers is expected to grow 23 percent by 2030, according to the BLS. Employers offer approximately 3,100 new jobs in this field each year, which is well above the average. The growing number of sports and wellness programs in schools, corporations and clinics will likely create new opportunities for health care practitioners, including athletic trainers.
Finding a job in this field isn't easy, but it may be worth the effort. Athletic training offers excellent career prospects, and you could end up working for professional sports teams. Plus, you may start your own business and work with clients from all over the world.