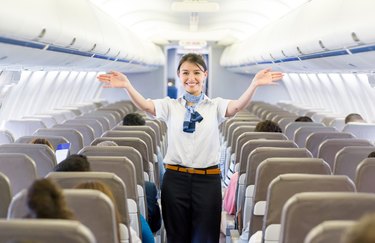 Spirit Airlines offers 500 flights a day to nearly 70 destinations in the United States, the Caribbean and Latin America – and as a flight attendant, you could be on one of them. If your only missing piece of information is a Spirit flight attendant salary, it's probably a good time to start shopping for a new travel bag. Of course, you could find other jobs that pay more or that don't expect you to be not only awake but chipper and attentive to guests at odd hours of the day and night. But you'd be hard-pressed to find another job that allows you to travel freely and see the world while representing one of the top low-cost airlines in the world.
Spirit Airlines Flight Attendants Must Project Cheer
Like other carriers, Spirit is regaining its footing after the pandemic decimated the travel industry in 2021. Being named one of Fortune's "most admired companies" of 2021" may have muted some of the sting of that traumatic year. (Fortune ranked only companies from No. 1 to 51; those from 52 to 332 were sorted by industry. Still, the accolade resulted from a survey of top executives, industry experts and financial analysts.)
Spirit makes no bones about being a no-frills airline. After all, the engines of its bright yellow planes are imprinted with the words "Home of the bare fare." Nor does it try to disguise the many fees that may come as a surprise to travelers accustomed to flying with bigger airlines. (For example, Spirit charges a $10 boarding pass fee if you ask a ticket agent to print a pass after you check in.) Other fees – for luggage, snacks and beverages – are all clearly spelled on its website.
What the airline lacks in amenities it strives to make up for in service, starting with the flight attendants it regards as "the face of Spirit." On good days and bad, Spirit expects those faces to be smiling. Specifically, it seeks flight attendants who "are fun and friendly, relaxed and confident, playful yet professional."
Spirit Airlines Flight Attendants Wear Many Hats
If this sounds like you, you might be well-suited to suiting up in Spirit's standout black and yellow flight attendant uniform, as long as you have at least a high school diploma (or GED). The airline prefers college graduates, as well as those who put the safety and comfort of its passengers first. It also expects attendants to be team players who "provide leadership, direction and assistance" to passengers as well as fellow Spirit employees.
You'll understand why when you review the responsibilities of the job. Spirit Airlines flight attendants must:
Deliver briefings before, during and after a flight.

Demonstrate how to use emergency equipment.

Remain aware of potentially dangerous events in the main cabin.

Stay calm during an emergency, such as an evacuation, while guiding passengers to safety.

Provide first aid or tend to the health needs of ill passengers.

Show leadership and offer instructions when flights are delayed or become turbulent.

Defuse angry exchanges or confrontations among passengers.

Answer questions and assist passengers with their carry-on items. (One reason why flight attendants must be capable of lifting 50 pounds.)

Sell and distribute food and beverages.

Comply with regulations and best practices set forth by the Federal Aviation Administration and Spirit Airlines.
Mull a Spirit Flight Attendant Salary
At this point, you may be tempted to cull the salaries of the three roles that a flight attendant is called upon to assume: that of safety manager, hostess and goodwill ambassador. Or, since you know you must be thorough in this job, you can try to glean a consensus among several of the country's leading job boards. Doing so won't let you down, for you'll find consistency among:
Zippia, which pegs the average hourly wage of Spirit flight attendants at $19 per hour. At 40 hours per week, this comes to ​$39,520​ a year. (Interestingly, after assessing 20 Spirit jobs, Zippia found that the average Spirit employee makes ​$34,685​ a year.)

Salary.com places Spirit flight attendants' average hourly rate a little higher – at $21 per hour. (It says the range falls between $17 and $26, and makes the worthy point that the difference rides on factors such as education, number of years in the field and additional skills.) At 40 hours a week, this rate comes to ​$43,680​ a year.

Payscale comes almost too close for comfort: $21.94 per hour, which would result in a ​$45,635​ annual salary on a 40-hour workweek.
The closeness of these numbers ought to reassure you that pegging your hopes on a salary in the low 40s is realistic. With a six-mile-high view of Spirit Airlines, only you can decide whether to keep looking or accept its offer to "let your dreams take flight" on one of those 500 flights per day.