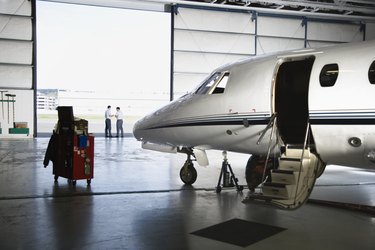 According to Glassdoor, the average flight attendant position with Spirit Airlines pays $22 per hour, which is equal to $45,907 per year for a flight attendant who works full-time. It is important to note, however, that an attendant is only paid per "flight hour" and not per hour on the job. Only time spent on the plane with the doors closed counts.
Earnings Vary by Experience
Annual flight attendant salaries at Spirit Airlines are based largely on experience level. According to Glassdoor, Spirit Airlines flight attendants with under a year of experience earn under $20 per hour, the equivalent of about $40,000 annually for full-time positions. Those with 10 or more years of experience can expect to earn $43 an hour, which is about $92,000 per year. Earnings vary a bit by location, but tend to fluctuate just 10% overall.
Additional Compensation
In addition to monetary compensation, flight attendants for Spirit Airlines receive a generous benefits package. According to the Agreement Between Spirit Airlines and the Association of Flight Attendants, flight attendants have medical and dental insurance available to them within 90 days of hire, and they are eligible for a 401(k) savings plan and a profit-sharing plan after one year of employment. In addition, flight attendants for Spirit Airlines are eligible for life insurance, long-term disability insurance, and tuition reimbursement. Further, flight attendants working for Spirit Airlines accrue vacation time. Per the agreement, they accrue 56 hours of vacation time after their first year, 84 hours after five years, and 98 hours after 10 years.
Advancement Opportunities
Spirit Airlines flight attendants who wish to advance their careers and increase their earnings can complete undergraduate degrees in aviation and become certified as pilots. According to Glassdoor, a pilot position with Spirit Airlines pays an average of about $75,000 per year, as of the date of publication.