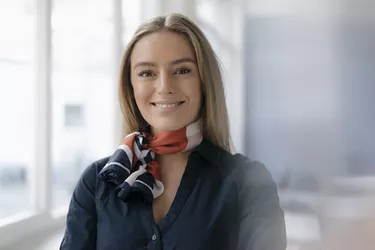 Working as a flight attendant for Spirit Airlines is just as challenging as it is rewarding. On one hand, you can travel the world and see amazing places while earning an income. On the other hand, flight attendants often have unpredictable schedules, work long hours and spend weeks away from home. Their salaries are not as high as one might think, but the job has its perks.
Flight Attendant Job Description
Flight attendants do more than just serve drinks and instruct the passengers to tighten their seatbelts. These professionals are also responsible for customer service, emergency medical care and safety checks, explains the Society for Human Resource Management. They prepare flight reports, demonstrate the proper use of oxygen masks, comfort passengers and create a welcoming environment. Other duties may include:
Handle any emergencies that may arise during a flight
Inspect the safety equipment, first aid kits and other accessories
Assist passengers with special needs
Take orders from passengers
Greet customers and answer their questions
Administer first aid
Conduct pre-flight checks
Promote and sell products to passengers
Your responsibilities in this role may vary depending on the type of aircraft and the airline you work for. A Spirit Airlines flight attendant, for example, has to promote and sell beverages, snacks and other products to passengers. You may also need to anticipate and report security threats, extinguish fires, manage unruly passengers and supervise the children on board.
Flight Attendant Education Requirements
Each airline has different requirements for cabin crew members. Generally, flight attendants must have a high school diploma or equivalent and complete on-the-job training. Spirit Airlines Inc. also requires at least two years of experience in sales, guest service or a related area, as well as the ability to lift a minimum of 50 pounds. Its flight attendants must be 21 years old and five feet tall and may not have visible tattoos or piercings.
As far as education goes, Spirit Airlines flight attendants must complete four weeks of training. After that, you'll have to take and pass an exam to become certified by the Federal Aviation Administration (FAA). Additional courses may be required for each type of aircraft you will be working on, notes the Bureau of Labor Statistics (BLS).
Other companies, such as American Airlines, require six weeks of training. There's also the option to take flight attendant courses at a private school, but you'll still have to complete on-the-job training. The Travel Academy, Inflight Institute and other FAA-approved schools can teach you the basics of working as a flight attendant, which could help you stand out from other candidates.
Flight Attendant Industry and Work Environment
Most flight attendants work full-time but have flexible schedules. Depending on the airline, they may fly 75 to 100 hours per month, including on evenings and weekends, explains the BLS. You can also expect to spend another 50 hours filing paperwork, preparing the cabin or taking courses. Attendants typically work shifts of varying lengths, such as 12 or 14 hours a day, and some have the freedom to choose their own flights.
How much you can earn depends on your experience, schedule and airline, among other factors. The median annual salary for flight attendants is ​$40,519​ plus bonuses and incentives, according to Indeed (based on self-reported data). For example, Spirit Airlines also offers tuition reimbursement, paid time off, dental insurance and travel benefits, including free flights and discounts on cruises, accommodation, car rentals and more.
Spirit Airlines flight attendants make about ​$21​ per hour, reports Glassdoor. That's not much, but they may also earn sales bonuses and additional pay for overtime work. Again, these figures are based on self-reported information. The actual numbers may vary based on your location, seniority and other factors.
Flight attendants based in Las Vegas, for instance, make close to ​$60,000​ per year, while those living in Detroit earn approximately ​$64,400​, according to the BLS. If you work in Orlando, Florida, expect to earn about ​$67,620​ plus bonuses and other perks. American Airlines, Spirit Airlines, JetBlue Airways and other big companies typically pay higher wages than small, local airlines.
Job Mobility and Career Growth
Flight attendants with several years of experience may be promoted to supervisory or management positions, such as cabin crew supervisor, notes the BLS. Plus, they have more flexibility with their schedules and may get to choose their shifts. Depending on your skills, you may be asked to supervise or train other attendants, recruit new hires, create employee work schedules and more.
As you gain experience, you may specialize in a particular area, like marketing or passenger services. Senior attendants may also complete additional training and start a career in aviation recruitment. You could also be promoted to base manager or inflight manager, which would allow you to spend more time on the ground. Another option is to move to a different department, such as risk management, sales or customer service.
Flight Attendant Job Outlook
The aviation industry offers excellent career prospects and competitive pay. The BLS estimates that U.S. airlines offer more than 17,600 flight attendant jobs per year, making it easier to find work. Plus, the demand for flight attendants will increase by about 30 percent between 2020 and 2030, which is way above the average.
If you're just getting started, consider joining the Association of Flight Attendants to secure better pay and build connections. Members may also qualify for scholarships, attend networking events and get special discounts. Also, don't limit your job search to Spirit Airlines. Depending on your experience, you may find work at Delta Air Lines, United Airlines, SkyWest Airlines or other companies. Research their training programs and use websites like Glassdoor or Payscale to compare salaries.